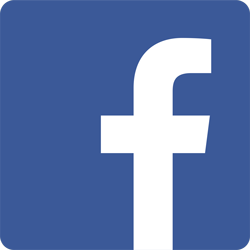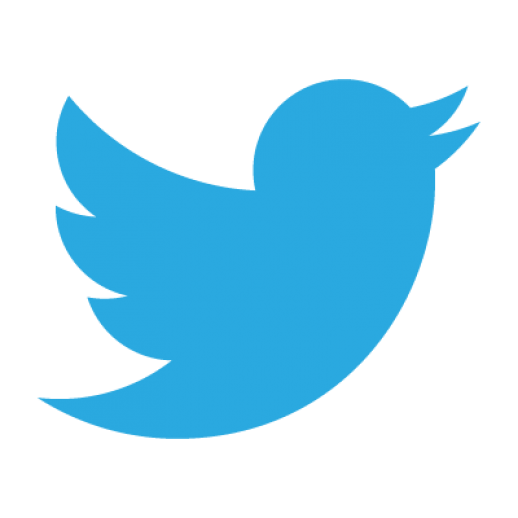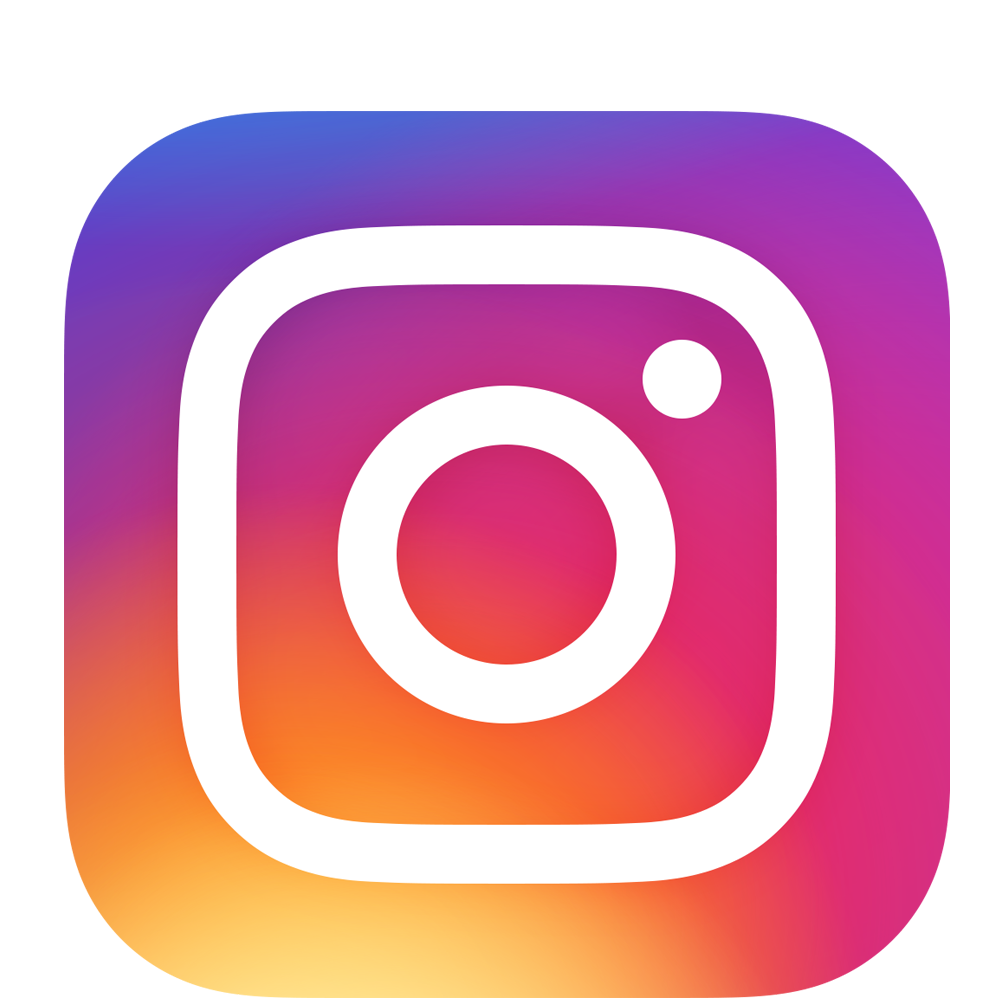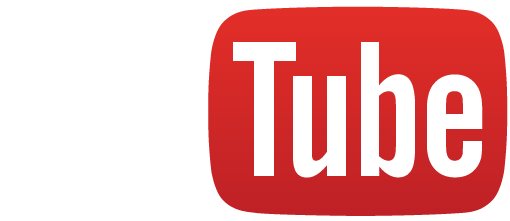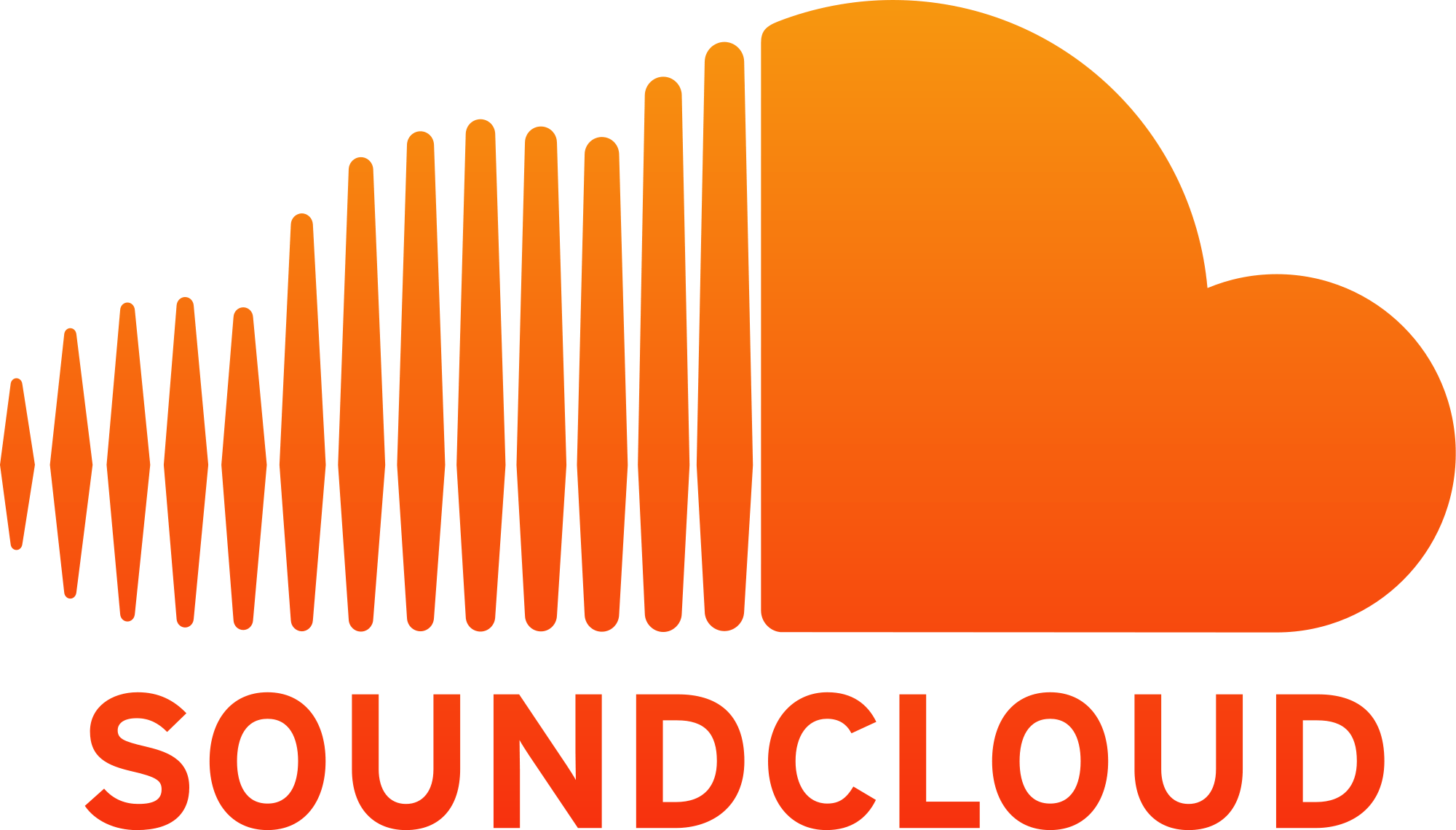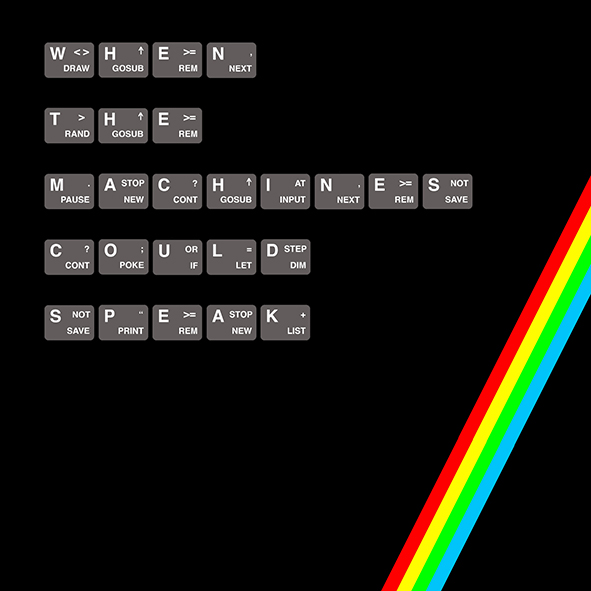 Mar 9, 2021
WHEN THE MACHINES COULD SPEAK – SINGLE – ONOMA IKUTARO 2
The first release from When The Machines. In their own words: "For our first release we wanted to create a sound inspired by classic European analog electronic music ... but heard through a contemporary filter. We mixed classic electronic instrumentation of the 70s and 80s (VCSIII, Wasp, Arp, 909, 303, ZX Spectrum!) with modern hardware (OP-1, Eurorack modular, KOMA), plug-in instruments (NI/Arturia/D16/Rhythmic Robot) and DAW effects. This is intended as one part of a "suite" ... a concept album, if you will!

"In keeping with the music we've created a film from processed video loops largely taken from assorted IBM/ICL/Honeywell promotional films from the 1970s."

'When the Machines Could Speak' is offered in glorious 24-bit audio on our Bandcamp site [click on artwork] as well as iTunes/Amazon/Spotify and other digital formats.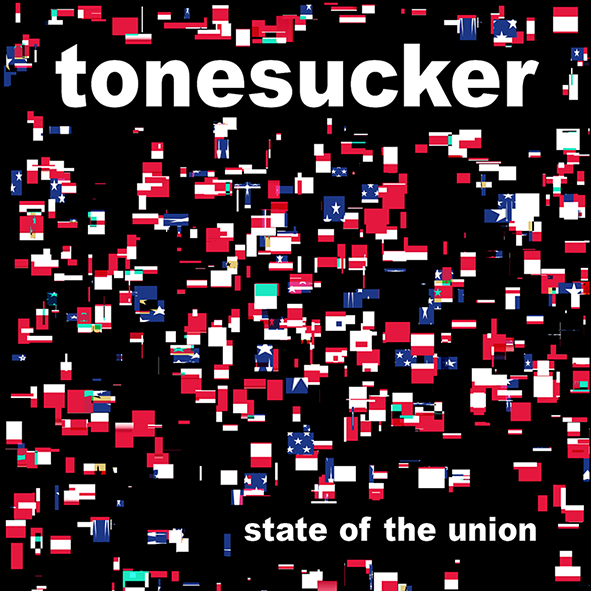 Feb 14, 2021
TONESUCKER EP – STATE OF THE UNION – ONOMA23
The second of the Tonesucker's 'Presidential' series marks the start of Joseph R. Biden's term with a new piece created on the day of his inauguration.' State of the Union' is a 20-minute shift through three phases, from 'Chaos' through 'Celebration' to the lengthy 'Calm' ... albeit with an underlying tension and sense of uncertainty. State of the Union sees Tonesucker shifting through their musical gears and taking on some uncharacteristic territories. The final sequence concludes with "amendments" to the US constitution using Oulipian constraint S+7.

State of the Union is offered in glorious 24-bit audio on a "name-your-price" basis. [Click on image.]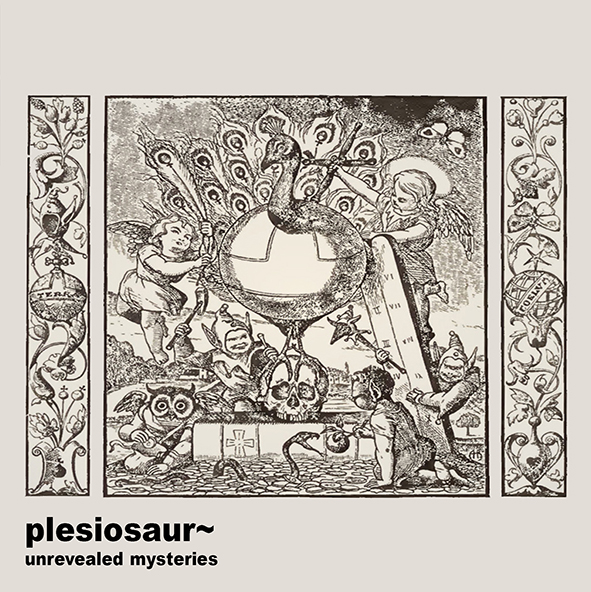 Feb 4, 2021
PLESIOSAUR~ ALBUM UNREVEALED MYSTERIES – ONOMA22
In conjunction with Four Fins, Steve Elsey from Tonesucker releases the third solo Plesiosaur~ album. In his own words: "Unrevealed Mysteries was conceived during the first Covid-19 lockdown in the UK, a time when all opportunities to play live had disappeared. This prompted many hours of live studio improvisations which developed recurring themes. Ultimately, these formed a more formal structure consisting of five movements constructed to be played as a single piece live, in the manner of this recording." [Click on image.]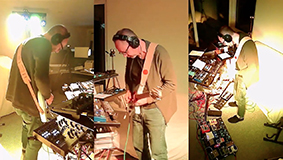 January 4, 2021
PLESIOSAUR~ LIVE STREAM
Watch a live performance of 'Understanding Faith' by Plesiosaur~ from his new album Unrevealed Mysteries. [Click on image.]
January 1, 2021
KICKSTARTING ONOMA.CO.UK
So it's more than three years since we last updated the onoma.co.uk website! It's not that we've been idle – quite the reverse – it's just that ... well, y'know ... it's just so much easier to post this kind of thing on social media ... you don't have to keep remembering how to use Dreamweave and html/Java code and all that. Yet it's becoming apparent that a significant number of our friends/colleagues/listeners/followers/confused bystanders simply don't play Facebook/Instagram/Twitter and the like. They think it's stupid. So this year we're definitely/really/honeslty/truthfully going to try to keep the website up to date. Oh yes. Really.

So what have you been missing? The ONOMA RESEARCH label is still focussing close attention on drone, noise, experimental, post-rock and other types of interesting instrumental music. ONOMA/TWO brings you art-pop/art-rock and some choice reissues from the Hamster, Cordelia, Eggplant and Orgone labels. ONOMA IKUTARO is our newset addition and specialises in electronic music. So that's what we've been doing. Click on RELEASES if you want to find out more.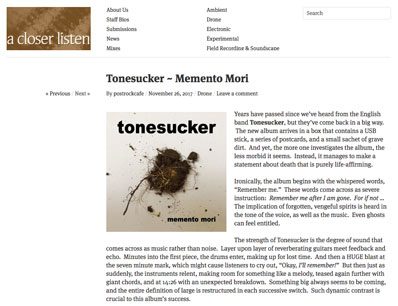 November 25, 2017
TONESUCKER ALBUM REVIEW FROM A CLOSER LISTEN (US)
"Years have passed since we've heard from the English band Tonesucker, but they've come back in a big way. The new album arrives in a box that contains a USB stick, a series of postcards, and a small sachet of grave dirt. And yet, the more one investigates the album, the less morbid it seems. Instead, it manages to make a statement about death that is purely life-affirming. Ironically, the album begins with the whispered words, "Remember me." These words come across as severe instruction: Remember me after I am gone. For if not … The implication of forgotten, vengeful spirits is heard in the tone of the voice, as well as the music. Even ghosts can feel entitled.The strength of Tonesucker is the degree of sound that comes across as music rather than noise. Layer upon layer of reverberating guitars meet feedback and echo. Minutes into the first piece, the drums enter, making up for lost time. And then a HUGE blast at the seven minute mark, which might cause listeners to cry out, "Okay, I'll remember!" But then just as suddenly, the instruments relent, making room for something like a melody, teased again further with giant chords, and at 14:26 with an unexpected breakdown. Something big always seems to be coming, and the entire definition of large is restructured in each successive switch. Such dynamic contrast is crucial to this album's success. In the fifteenth minute, a multitude of voices speaks all at once, a cacophony of the fractured digital era: so much being said that nothing is heard. And then at the end, a single angry man, primeval in intensity. We've come a long way; or have we? In order to create these tracks, Tonesucker has raked over the coals of the past, extracting "Telstar", Crowley and chimes; they've demanded that their computers translate texts into Enochian; they've masticated the sounds of neurons, storms and the Blue Man Group. Not that any of this is immediately apparent. Their method of remembrance has required that everything be translated into code. The liner notes are more specific. Here we learn that "Lament" is inspired by the death of Peter "Sleazy" Christopherson, a founding member of Throbbing Gristle and part of the art collective Hipgnosis. They honor him with guitars, electric fans and an attempt to utilize the cadences of sunspots. One thinks the deceased would be proud. A more linear effort than "Remember Me", "Lament" moves inexorably toward thickness, a drone that even at 25 minutes seems too short, a parable of Christopherson's life. Memento mori means remember you will die. It's not a cheerful phrase, but in the hands of philosophers and theologians from Aurelius to Ecclesiastes, it bears a meaningful implication: live every day fully. The spirits of historical figures from The Sun King to Clifford Grey may be placated temporarily by this release; remember me, they pled, and they were. Tonesucker has reawakened dialogues around them, and filled them with sound." (Richard Allen)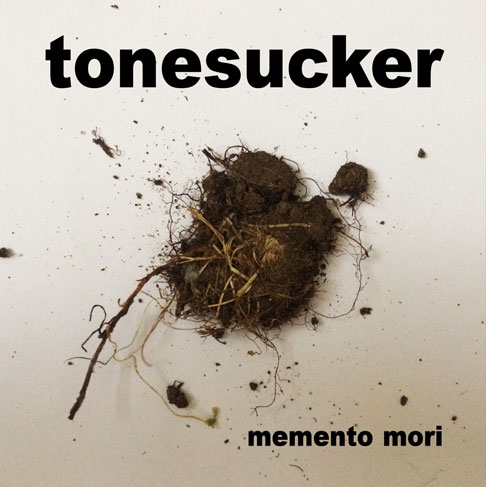 November 23, 2017
TONESUCKER ALBUM BOXED SET – MEMENTO MORI – ONOMA21
The Onoma Research label releases, Memento Mori, a new album by Tonesucker. It comes as part of a boxed set with a dozen postcards and CD or cassette formats. A very limited USB stick version is available, containing a sachet of earth sourced from the grave of songwriter Clifford Grey (1887-1941) in Ipswich Old Cemetery.

The chimes which until recently introduced the public announcements at Paris Orly airport were synthesised electronically by Constant Martin. They are captured at the beginning of Chris Marker's 1962 La Jetée and contribute to that movie's impression of the airport less as a place, or even a non-place, but as a portal to complex and sinister time warps. In the same year, another of Martin's instruments, the clavioline, carries the melody of The Tornados' Telstar, Joe Meek's celebration of early space exploration and telecommunications - a melody which, in the recording, emerges from noise and echoing feedback and to which, two or so minutes' later, it returns. Five years after Telstar, defeated by beat music and long without a hit record, paranoid that the major labels are bugging his studio above the leather shop at 304 Holloway Road to discover his production secrets, terrified that he might be questioned as a suspect in the Tattingstone Suitcase Murder where a young gay man he knew is found dismembered in several suitcases in a field near Ipswich, obsessed that he is possessed by the spirit of Aleister Crowley, annoyed by Violet Shenton his landlady's reminder of overdue rent, Meek shoots her and then himself with a folding shotgun confiscated from Heinz Burt, the blond adonis of The Tornados. All this on the eighth anniversary of the plane crash that killed The Big Bopper, Ritchie Valens and Meek's idol Buddy Holly.

We excerpted Martin's chimes from La Jetée and retuned them. We slowed the first nine notes of Telstar in proportional time to 23 minutes and 23 seconds. We made a choir of the Gloucestershire accented vowel sounds of Joe Meek's voice. We translated Johnny Remember Me into Enochian, the language of the angels as revealed to John Dee and Edward Kelly and studied by Crowley and we
made computer voices recite the text. We sampled pulses from the Joe Meek and the Blue Men album, I Hear A New World, and recorded radio static. We recorded our guitars, synthesizers, drums, a Theremin and a distant train. We added clavioline sounds from an effects box designed to impersonate the instrument. We played a synthesizer which simulates the action of the human brain's
neurons. We submerged the sound in a recording of a storm at Cromer which, in our distorted parochial imagined toponymy, is where the ferryman Charon sets off for Hades with troubled English souls.

Find me. Everything is densely connected. Everything is artificial and restless. And there are doors all around. From a viewing pier at Orly to a Suffolk field, from a snowy plane crash site in Clear Lake to the moors haunted by lost lovers, from future nuclear eradication to visits from friendly dancing aliens, from cottaging in Soho toilets to Paradise Garden. Walk with me. The smell of leather and burnt gunpowder. The action of vactrols and valves. A five year old boy with a toy gramophone. Remember me.

In November 1686, the anal fistula of The Sun King, Louis XIV of France, is removed by delicate surgery for which the doctor has specially crafted a unique curved scalpel. To celebrate the king's recovery, Jean-Baptiste Lully conducts a performance of his Te Deum, during which he strikes his left foot hard with his conducting staff. The wound becomes gangrenous but Lully refuses amputation as he still wishes to dance. By the time of his death the following March, gangrene has infected Lully's brain.

In 1997-1998, Drew McDowall, Jhon Balance and Peter Sleazy Christopherson are experimenting with psychedelic drugs and musical drones. They find themselves subject to time slips where they enter a trance and experience otherness, emerging a surprisingly long or short clock-time later. They discover that they can influence the character of these slips by adjusting the synthesis of simple droning and pulsing tones played loud. Coil's Time Machines is an album of four tracks each titled with the full chemical name of the drug it is intended to accompany. The first 3000 copies include six stickers. Four of these are associations between colours, glyphs and the drug names. A fifth shows a black egg and carries the motto Persistence Is All. Bearing the same motto, the sixth sticker inverts the colours of the fifth to reveal John Dee's monas hieroglyphica within the egg. The four glyphs from the other stickers - the moon, the sun, the elements and fire - are combined in Dee's monad to create a key for time travel along the lines drawn by musical drones and through the doors opened by psychedelics.

Within the black egg of death is time travel.

Three days after Sleazy's death in 2010 we set aside a Sunday to compose a lament for him. We find this is Lully's birthday and aim to cure Lully's gangrene and his sycophancy of Louis XIV with Sleazy's magick in which, following Crowley, everyone is a star, not just the king. We elongate Lully's Trio Pour Les Habitants De L'Isle Enchantée into a solemn lament. We layer it with transformations of extracts from Time Machines. We return to the project seven years later. We mix in 6 and 8 string guitars, machine noises, a talking drum, layers of Wasp synthesizers, and the sound of failed attempts to use electric guitars to respond to sunspot activity. We add an Epiphone acoustic guitar which was once owned by the psychedelic musician Ramases and play it with four fans whose position along the strings we vary. In honour of Coil's work with the ANS synthesizer, we create an image which is synaesthetically transformed into shimmering textures. We close by transposing an earlier piano cadence but leave it unresolved. Lament.

Within the black egg of death is time travel.

In Ipswich Cemetery we locate the grave of Clifford Grey, the songwriter best known for If You Were The Only Girl In The World, who, while on ENSA duty, died after being taken ill during an air raid on the town in 1941. A flat stone was later added which relates that Grey was an Olympic bobsleigh gold medalist in 1928 and 1932 - an achievement now thought to be true of another Clifford Grey. We play the original recording of his most well known song and are struck by the power of Violet Lorraine's voice as she duets with George Robey. We play Grey's Got A Date With An Angel, a happy anticipation of reuniting with a dead lover. When the pearly gates swing out / She'll beckon to me. Perhaps Johnny has remembered and is now on his way. They have a date at seven in the evening. We take a little grave dirt and, in exchange, give Grey a square of dark orange chocolate and this album. Memento Mori.

Within the black egg of death is time travel.

Along Station Road, Bernard Oliver climbs out of the suitcases and reassembles himself.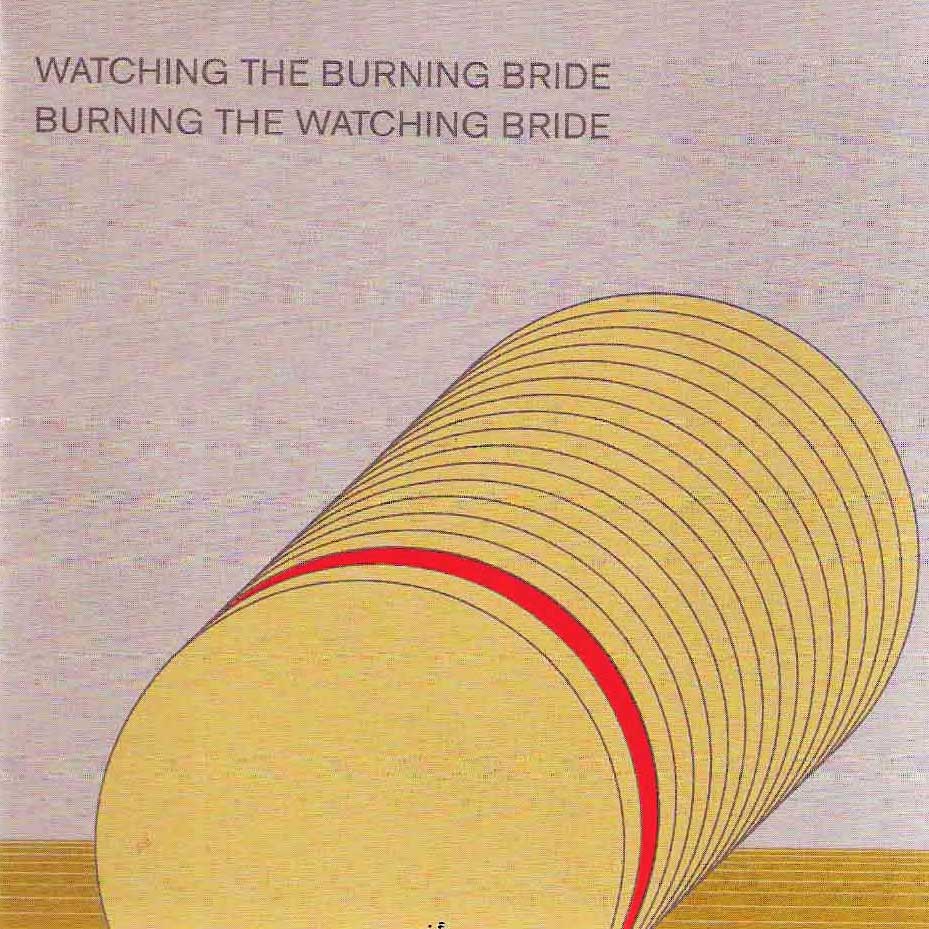 Nov 10, 2017
ASMUS TIETCHENS & TERRY BURROWS ALBUMS – WATCHING THE BURNING BRIDE/BURNING THE WATCHING BRIDE
Released jointly by Germany's Die Stadt and Auf Abwegen labels, "The two collaborative albums by Asmus Tietchens and Terry Burrows, Watching The Burning Bride and Burning The Watching Bride have just been reissued on double CD. The works originally appeared on vinyl in 1986 and 1998 respectively. The double CD is jointly released be Die Stadt and aufabwegen forms part of the Asmus Tietchens reissue series. The double CD features twi short bonus tracks plus a lengthy text by Terry Burrows explaining how the collaboration came about." The album is available direct from Die Stadt and Auf Abwegen's mail order sites; in 2018, Onoma Research will release digital versions of all four albums that made up the "Bride" set – the two collaborations, Tietchens' Abfleischung and Burrows's The Whispering Scale. Plastic Response Records in the US will also be releasing a luxury boxed set in cassette format in 2018.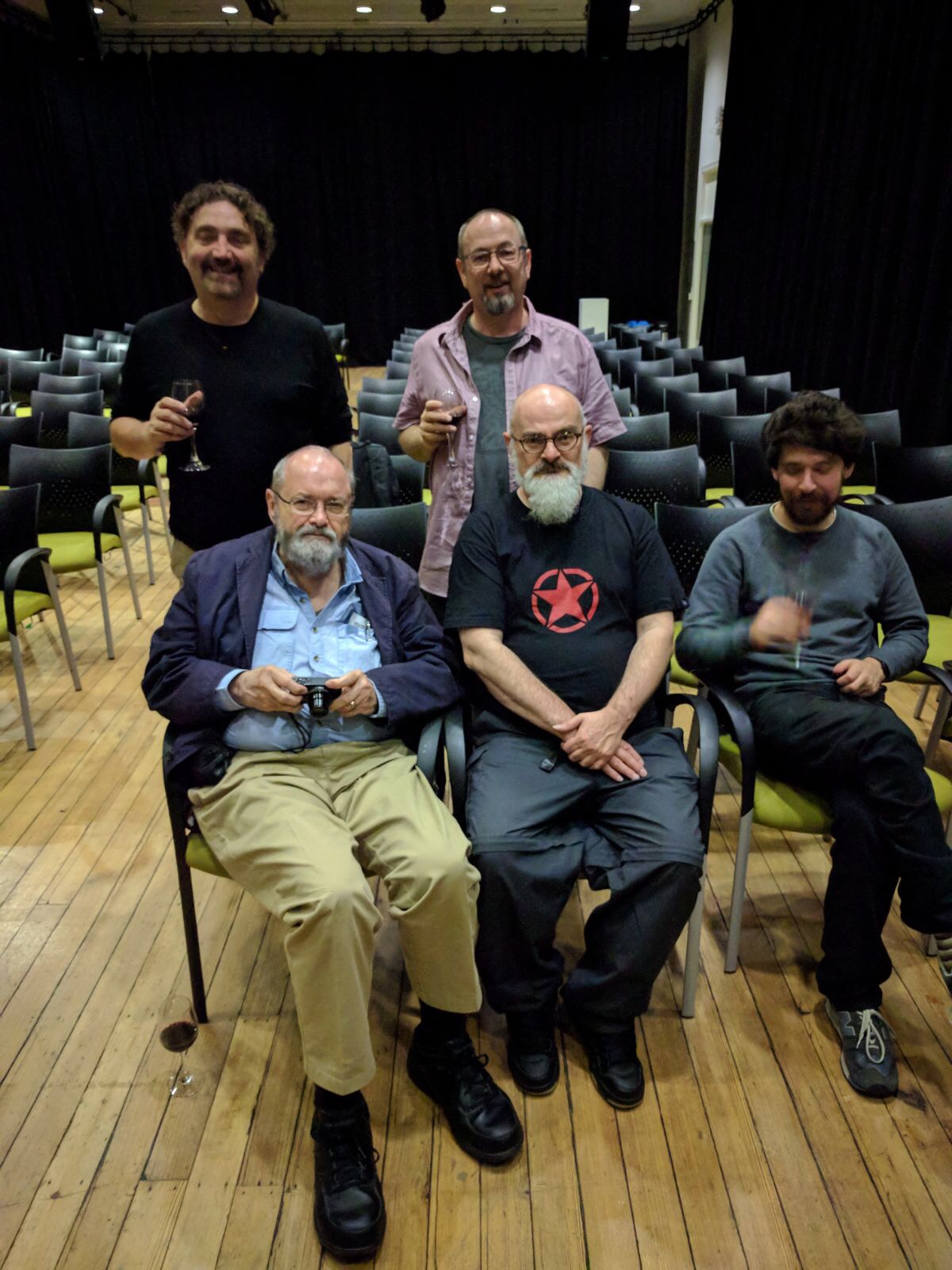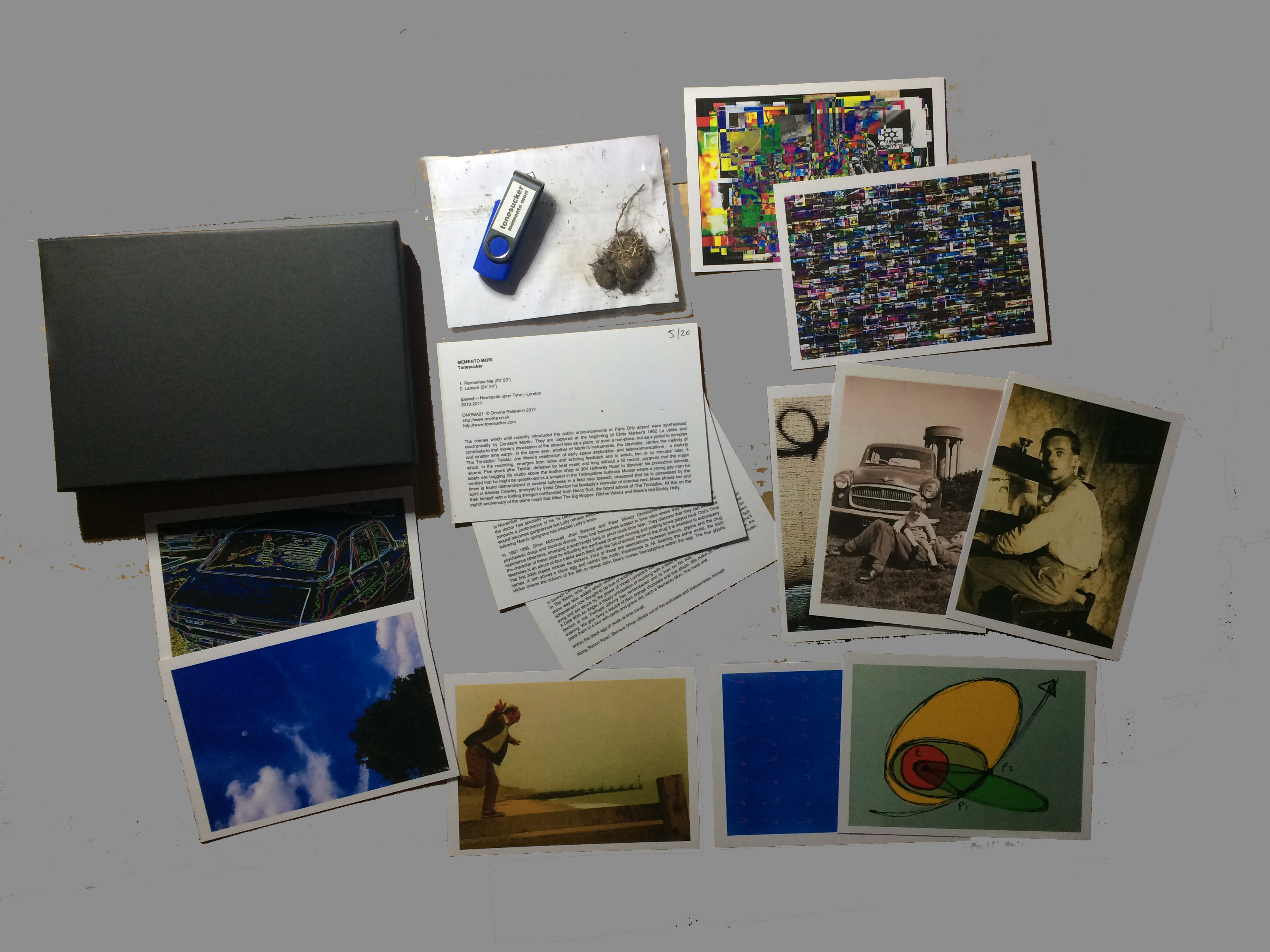 September 11, 2017
PHILL NIBLOCK / TONESUCKER / TIM SHAW LIVE, NEWCASTLE UNIVERSITY
Newcastle University's Culture Lab hosts a live performance by the legendary Phill Niblock, supported by Onoma artists Tonesucker and Tim Shaw. A special, very limited edition pre-release boxed set of Tonesucker's forthcoming album, Memento Mori, will be available.





July 21, 2017
JUNG ANALYSTS CASSETTE REISSUES
Plastic Response Records in the US reissues all three of Terry Burrows's Jung Analysts albums – his first ever recording project – on cassette. A Leading Surgeon Speaks, originally one sode of a shared LP, features on side 2 a series of unreleased analogue synthesiser instrumentals. All three albums are available on the Onoma/Two label – A Leading Surgeon Speaks + (ONOMA/TWO8), The Wishing Balloons (ONOMA/TWO9) and Sprockendidootch? (ONOMA/TWO12).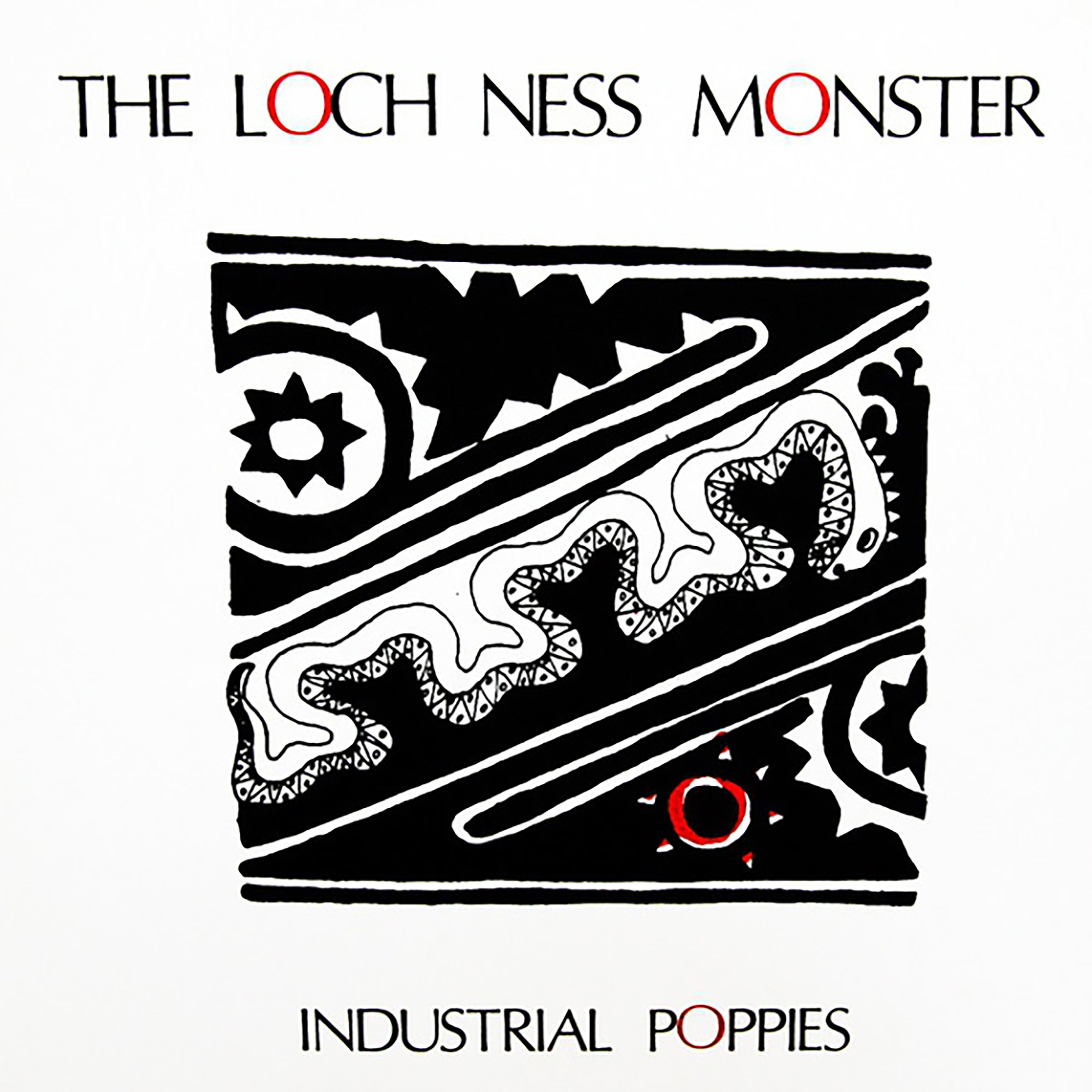 May 30, 2017
THE LOCH NESS MONSTER ALBUM – INDUSTRIAL POPPIES – ONOMA/TWO11
Onoma/Two gives a digital reissue to Industrial Poppies by The Loch Ness Monster. A curious hybrid of YMO-style synth-pop, the Residents and elements of prog rock, it was created by Steven Plesiosaur and Nils Phlamethrowar (or Steven Elsey and Martin Howells as they were known to some). Here are some release notes accompanying the reissue from Terry Burrows: "Onoma/Two11 is a reissue of the Hamster Records debut LP by the Loch Ness Monster, who were a pair of design students at Ipswich School of Art in the mid-1980s. Industrial Poppies was recorded by Steven Plesiosaur and Nils Plamethrowar on a four-track Portastudio which I then "produced" in my bedroom studio. (Although, in truth, Steve's pre-production mixing really did most of the work.) Nils and I did the mastering cut for the album with the legendary George "Porky Prime Cut" Peckham in a tiny mews studio in Fitzrovia, just around the corner from the BBC. George had worked for the Beatles at Apple Records and had lots of interesting stories. And a lot of strange scouse expressions – I remember him once telling us he was "just nipping out for a banjo burstee" when he went to the toilet. On this occasion, while we there, Noddy Holder from Slade walked in and George shouted out: "Eh, Nod, these kids have made a bloody good album just with a cassette!" And Nod… er… nodded at us with interest. After we'd finished, George took us over the pub and we met Noddy again very briefly. That was quite exciting. I believe the hand-made album sleeve was silk-screened by one of their art school tutors. The release was given a good write-up in Sounds and a few other magazines, was played by John Peel, and the pressing sold out quite quickly – within a month or so. Unfortunately, being the world's most useless record label, instead of repressing the album I told them to go and make another one... and then I pressed up far too many copies of that and lost a load of money. That was Mosaic 44."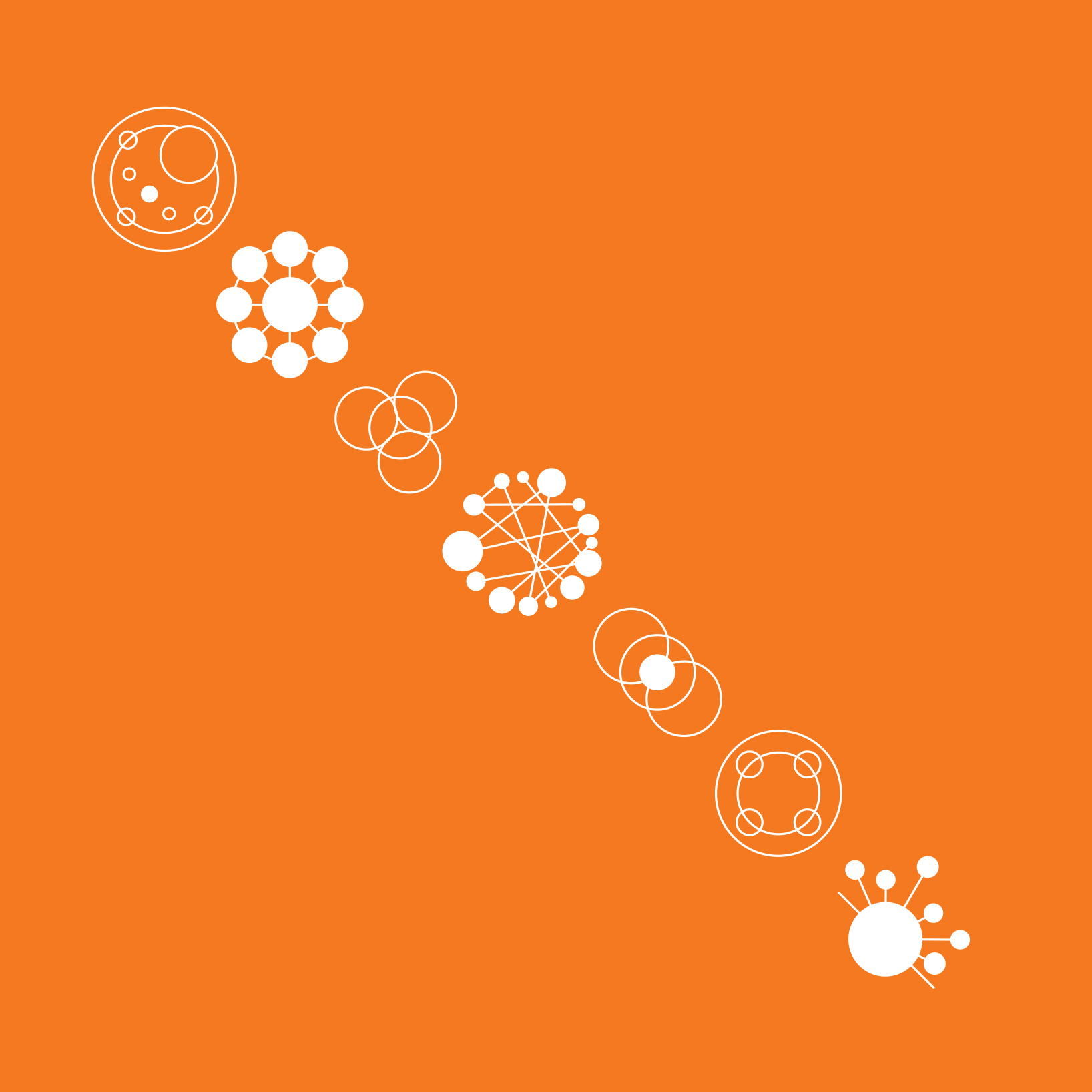 May 5, 2017
THE MORTISE OF THILILUA ALBUM – HARVEST – ONOMA/TWO10
ONOMA/TWO release the first album by The Mortiseof Thililua. "Harvest is more than a reimagining of Neil Young's seminal 1972 recording. It might be better described, perhaps, as a work of deconstruction. Adopting a set of simple compositional rules, elements of the original music and lyrical fragments were used to provide a starting point for something altogether different – something ultimately new and unrecognisable from its source."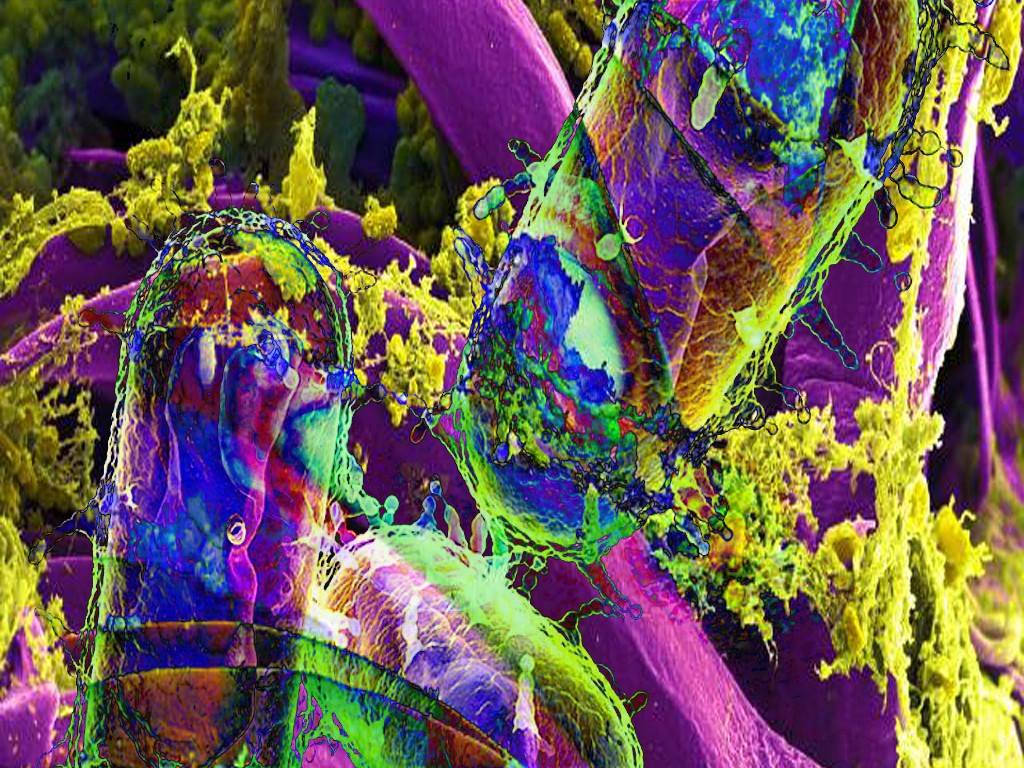 March 17, 2017
TONESUCKER LIVE, IPSWICH
Springing into action for the first time in 2017, Tonesucker play The Smokehouse in Ipswich on Friday, March 17. The full line up is TR-33N, English Heretic, Tonesucker, Tim Dee, Talking Sleeve and Ryan Jordan. The photograph is a still from John's background video accompanying the performance.





January 20, 2017
TONESUCKER ALBUM – INITIUM
Onoma Research release a free download album by Tonesucker. The 56-minute extreme noise/drone improvisation was performed live earlier in the day in London, Newcastle upon Tyne and Shotley to coincide with the inauguration oath of Donald J. Trump. [Click Image]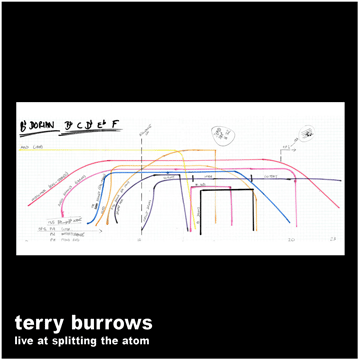 October 16, 2016
TERRY BURROWS SINGLE – LIVE AT SPLITTING THE ATOM
Onoma Research release an EP by Terry Burrows of his performance at Splitting the Atom On October 9, 2016. [Click image]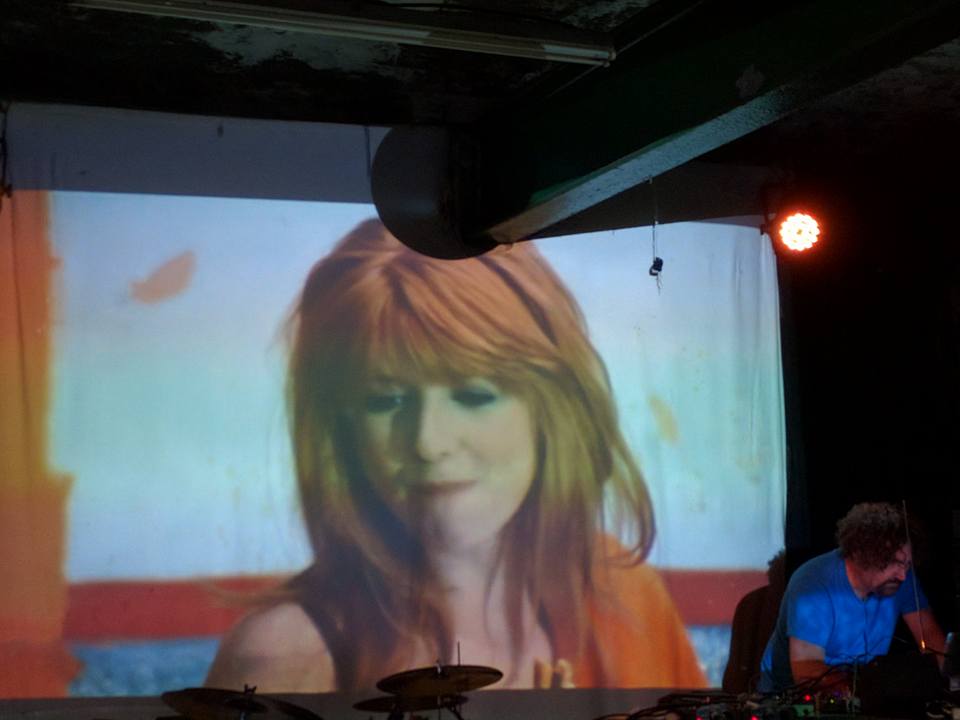 October 9, 2016
TERRY BURROWS, LIVE, BRIGHTON
Terry Burrows plays a solo set in Brighton as a part of the all-day Splitting the Atom XXXiii festival in Brighton. [Photograph by John Bowers]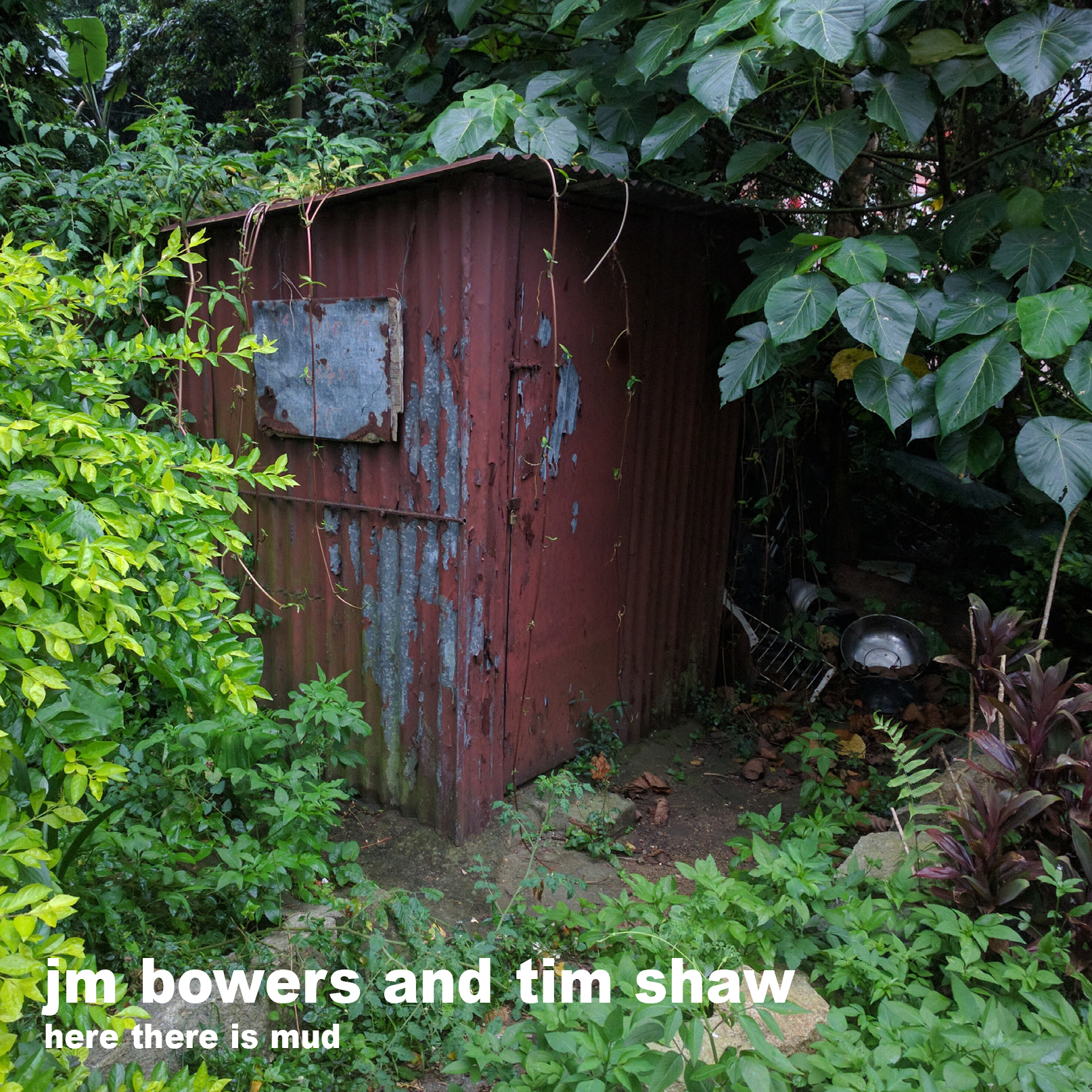 June 1, 2016
JM BOWERS AND TIM SHAW SINGLE – HERE THERE IS MUD
Onoma Research release a free download single by JM Bowers and Tim Shaw. Here is what they have to say: "Lamma Island, or Pok Liu Chau, is the third largest island in Hong Kong. Here There Is Mud is composed of field recordings made there on the 20th and 21st May 2016. We hear the ferry to the island, the Kamikaze Caves where occupying Japanese troops hid boats filled with explosives in readiness for a quick launch direct at enemy ships in WW2, insect life, birds, a child crying, the Asiatic painted frog, and Hongkong Electric's coal and gas fired power station. The island got its name in 1760 from Alexander Dalrymple, the first hydrographer of the British Admiralty, misreading 'lama', meaning mud, on a Portuguese chart as if it named the island rather than the character of its anchorage. Here There Is Mud accompanies Shaw and Bowers' performance at Koan 2: The Middle Game, an event at The Globe Jazz Co-op in Newcastle on 27th May 2016 put together by Martin Donkin."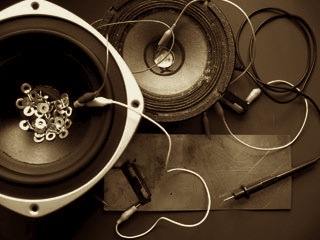 April 14, 2016
JOHN BOWERS LIVE, ALTERNATIVE HISTORIES OF ELECTRONIC MUSIC, SCIENCE MUSEUM, LONDON
John Bowers gives a concert demonstration of "The Victorian Synthesizer" at the Alternative Histories of Electronic Music conference at the Science Museum Dana Research Centre, Queen's Gate, London. He says: "For some 15 years, I have had an ongoing project I refer to as The Victorian Synthesizer. The basic idea is to explore devices with the features we associate with hardware music synthesizers (oscillators, filters, LFOs, means to shape signals and modulate them, and so forth) but with means that were known to the Victorians (strictly 1837-1901)." You can read the rest of his notes in the event programme. [Additional information and audio can be found by clicking on the image.] The performance begins at 17:45. Please note this event is only open to conference delegates.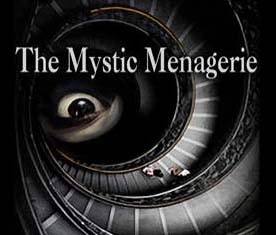 January 25, 2016
TERRY BURROWS ON THE MYSTIC MENAGERIE PODCAST
Freddie Valentine and Dan Baines unleash episode 17 of The Mystic Menagerie podcast. It contains a lengthy interview with Terry Burrows, during which he discussess Tonesucker, psychogeography, the Rendlesham Forest UFO incident, his ownership of the famous "Ramases Guitar", and The Chrysanthemums' in-progress concept album based around a 1969 episode of Scooby Doo. The podcast also features 1990s pop stars Right Said Fred. [Click image.]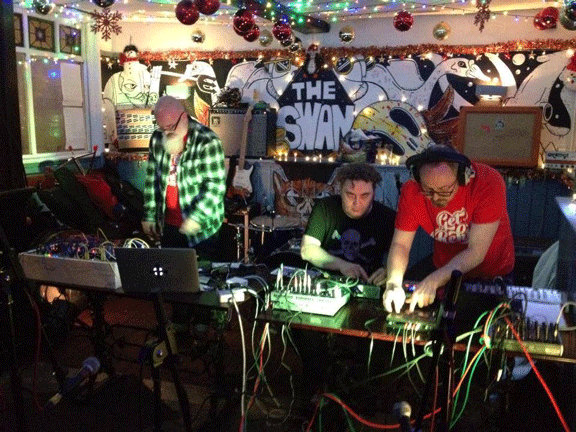 December 21-27, 2015
TONESUCKER LIVE, ANTIGEN RECORDS CHRISTMAS ALBUM PARTY, IPSWICH
From our friends at Antigen Records: "Join us, as we blacken our faces, nail a wren to a pole and march through the streets of Middleton, bearing burning torches... Sorry, that's the night before. Join us, as we sit in a pub, enjoying an afternoon of festive folk, skewed country and western and lo-fi buffoonery, followed by an evening of fully amplified Christmas craziness, courtesy of Mick Squalor, and Slugz, SuperGlu (acoustic show), Nathaniel Robin Mann, Nick Castell and friends, Jack Rundell, Tonesucker, Dingus Khan. Plus Christmas video messages from all of our friends and surprise special guests." Takes place at The Swan, Ipswich.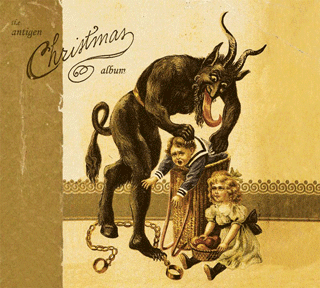 December 21, 2014
TONESUCKER APPEAR ON ANTIGEN CHRISTMAS ALBUM
Our friends at Antigen Records have just released The Antigen Christmas Album, a compilation of seasonal cheer on which Tonesucker perform the piece 'Eyes of Your Eyes: Rendlesham Christmas 1980', a track (in part) recorded live on Rendlesham Forest at the location of the 1980 UFO incident. There is also a video of the Tonesucker track available. [
Click image.]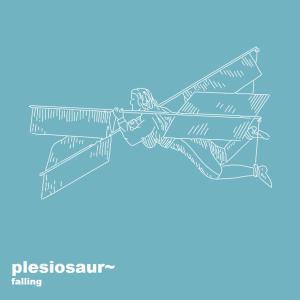 July 25, 2015
PLESIOSAUR~ ALBUM –
FALLING
Onoma Research release the second album by Plesiosaur~. Falling is avaialable on CD or as a download via Bandcamp or iTunes. [Click on image to listen or buy.]

Review from A Closer Listen (US):
"With
Jurassic World
all the rage this summer, it seems like a good time to be named Plesiosaur~, even with the tilde. When last we encountered Tonesucker's Steve Elsey, he was in mourning; this time, he's stretching his wings and flying to the sun. As Icarus learned, this is not necessarily the safest summer activity; but as poets have written, it's one of the noblest. Couple this with a sideways Stevie Smith reference ("Falling (not flying"), and one has all the ingredients for a memorable Greek tragedy. Not that one knows this from the start. In the opening track ("Boy, Second Class", referring to a teenager's entry into the Royal Navy), expectations build with the rising, swirling guitars, an astonishing eight minutes and thirty-nine seconds before the first tonal burst. Even when the drums enter, the listener realizes that Elsey has simply jumped from one build to the next, a Jacob's Ladder of builds, on his way to an uncertain future. Three minutes later, the first explosions appear off the starboard side. Ladies and gentlemen, this is post-rock. This beast is going to be hard to top, but a plesiosaur is pretty strong, so one should never count it out. In "Ten Seconds" (which is ironically ten minutes long), a boy soprano exits the ship and begins to sing. Again the build is extended (no drums for four minutes), but the payoff is huge. The last 4:25 is almost a different track, loud, clear and full, offering the possibility that Elsey might actually have a metal-tinged radio single. Conceptual kings Queensrÿche would be proud. The energy drops a bit with the middle track, which includes a few minutes of space capsule instructions; better to begin here at 4:57. This is a strange misstep in an otherwise engaging album: if one likes Plesiosaur~, one wants to hear Plesiosaur~, dispensing with the voiceover. "Falling (not flying)" is a strong recovery, and if it never quite reaches the heights of the opener, that's okay; the ambition is what will be remembered."
(Richard Allen)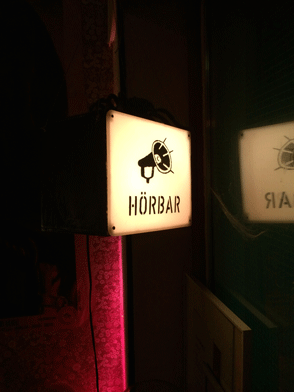 June 19/20, 2015
TONESUCKER AND TERRY BURROWS LIVE, BLURRED EDGES FESTIVAL, HAMBURG
Tonesucker perform at Hamburg's Blurred Edges Festival. Terry performs on Friday night (June 19), alongside FX Schróder (who does things with a Wasp synth). Tonesucker play on Saturday night (June 20) alongside Pierre Bastien, who will give one of his mechanical orchestra performances.
Both shows take place at the Hörbar cinema.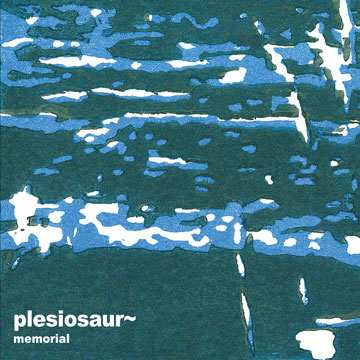 December 1, 2013
PLESIOSAUR~ ALBUM,
MEMORIAL
Onoma Research release the debut album by Plesiosaur~. Memorial is avaialable on CD or as a download via Bandcamp or iTunes.

Review from A Closer Listen (US): "For those who are wondering, that's not a typo. Plesiosaur~ is as much in love with the tilde as we are. This particular punctuation mark also implies the form of a plesiosaur ~ long, graceful and undulating, a fair way to describe this music as well. Memorial may come as a surprise to Tonesucker fans, since Steven Elsey's solo effort is more expansive than abrasive. The album, comprised of three extended tracks, is an homage to Steven's father. These tracks collect improvisations recorded over an 18-month period, and reflect the state of hearts in grief. The track titles may refer to the period of intense mourning, but the full album tackles a much longer period. (Stateside readers: in this context, the word "wake" refers to the gathering after a funeral, not the viewing before.) "Death" begins in numbness, akin to the first stage of grief. Extended tones grow gradually in stature like slowly-returning emotions. A slow, measured breath contributes a melancholy tinge. When the bass finally enters in the twelfth minute, the news sinks in. The depths of emotion are about to be breached. Thick guitar drones seep into the sonic field a couple minutes later like unwanted regrets. And then the bells ~ are last rites being administered, or is an angel getting its wings? "Funeral" begins with a garbled transmission: "for I am still … once again …". A Scripture reading? EVP? Just as one fears the funeral section will descend into morbidity, the drones recede, revealing a lovely swath of choral melody. A funeral is a mix of emotions, light and dark, and Ramsey captures them well. The center section grows more active as drone turns to post-rock, a repeating guitar line joined by a low-toned, wordless choir. At 11:08. sludge turns to cacophony, and the entire project shifts to the metal realm. Some will hear anger, others grandeur; the character of mourning lies in the heart of the mourner. The bass repeats the choral notes as guitars swirl around the morass like angels and devils battling for a soul. Now that's what I call funeral music! The voice returns in "Wake", which sounds less like a party than a slow-burning fire. Death can leave a gaping hole, and there's no telling what might rush in to fill the vacuum. In this case, it seems that the rage must run its course. Again, the interpretation is left to the listener: is this the rage against the dying of the night, or the anger stage of grief? Whatever one's interpretation, this album does not go gentle into that good night. Thanks to its willingness to plumb the depths of grief, Memorial sounds authentic, albeit at times uncomfortable: too close to home or just right. Not all is dark. Intentional or not, the art contains a hint of hope: two versions are offered, pink and blue, like the colors of a newborn's crib. In the midst of death, we are in life." (Richard Allen)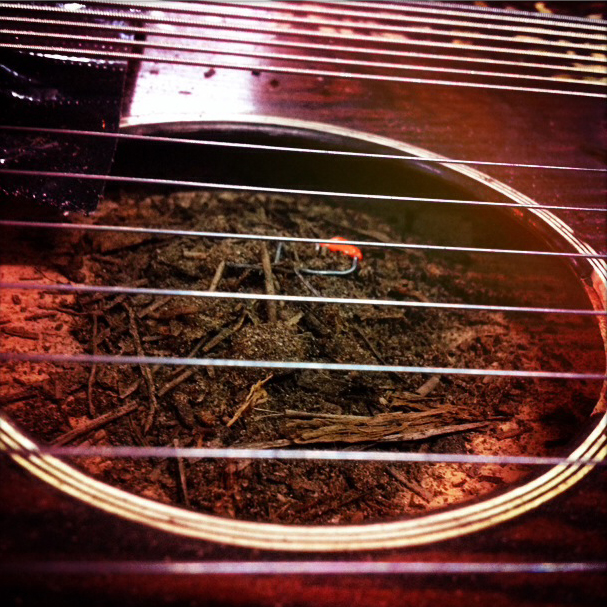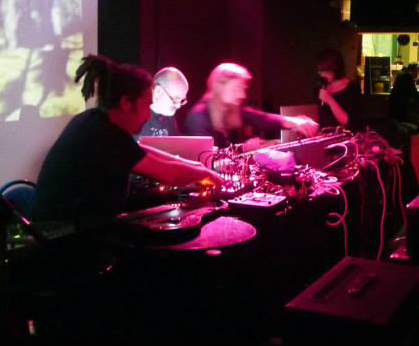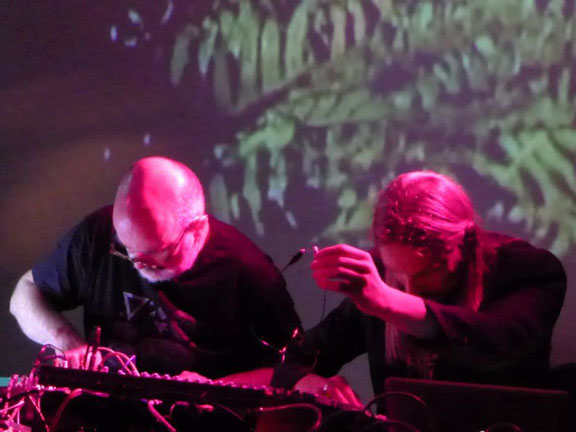 September 9, 2013
TEMPEL OF SEKHMET LIVE, NEWCASTLE UPON TYNE
Tempel of Sekhmet (L-R, Terry Burrows, John Bowers, Benjamin Freeth and Annika Haas) play at the Unearthing Forgotten Horrors all-day festival, Star And Shadow Cinema, Stepney Bank. Also in action, Black Mountain Transmitter, English Heretic, Culver Lovers, The Psychogeographical Commission and Joseph Curwen. Shown above left is Godzitha! with plague-infected capacitors.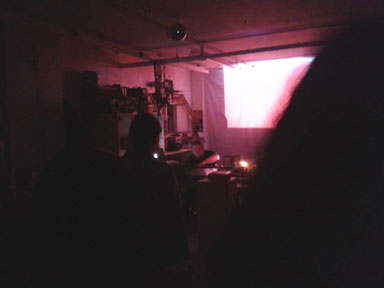 August 10, 2013
TERRY BURROWS LIVE, LONDON
A joint Noise=Noise/Abject Bloc event features Maria Chavez, Robert Crippa, Jac Beloil, Luke Younger and Terry Burrows. Terry performs 'When All Saints Church Fell Into The Sea, Dunwich, Suffolk, November 12, 1919, featuring hydrophone recordings made on location on Dinwich beach.
June 30
, 2013
TONESUCKER LIVE, IPSWICH
Tonesucker take part in an all-day event as part of the
Switch Fringe Festival
.
Venue is the Royal Oak.
June
23, 2013
WAND ERECTION ALL-STARS LIVE, IPSWICH
Terry Burrows and Steve Elsey (Tonesucker) join the Wand Erection All-Stars – a one-off mighty noise orchestra. Part of a Switch Fringe Festival all-day event at th
e Royal Oak.
More information closer to the date.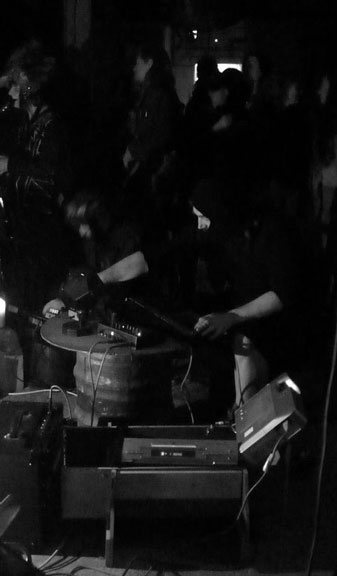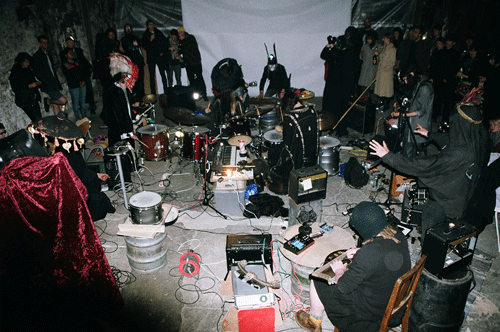 May 25, 2013
MOON RA LIVE, LONDON
Terry Burrows plays Godzitha! – the modified electric zither harp – as part of Moon Ra. "We are Ra. We channel the Law of One through the medium of Communal Creative Enlightenment of the vibratory sound complexes of mind/body/spirit. Furthering the cycle of Creation we will bring forth the power available through the combined efforts of the group-soul or 'Many Moons'. Each entity (mind/body/spirit complex) is a unique portion of the creation, and the creation in turn a portion of the entity. The exploration thus is free to continue infinitely into an eternal present. Channellings / Transmissions / Performance will be held in the spacial settings of the Corbridge Warehouse on the full Moon of 25/05/2013 8 - 11pm We are those who are of the Law of One. We are one. We are RA." The event took place in a disused warehouse along the Regents Canal, East London.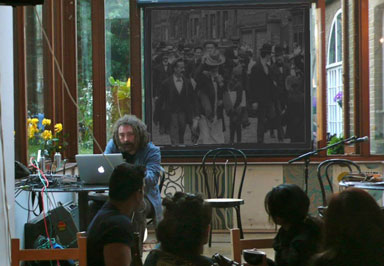 May 19, 2013
TERRY BURROWS LIVE, LONDON
69 presents Terry Burrows with a live accompaniment to his 23-minute film 'Whether Or Not You Wear A Hat' at St Margaret's Chapel, 21 Old Ford Road, Bethnel Green, London. Part of "an evening of moving image and live soundtracks". Also featured are 'Warp Drive' by Marianne Walker and 'Kore Kosmou' by Conny Prantera.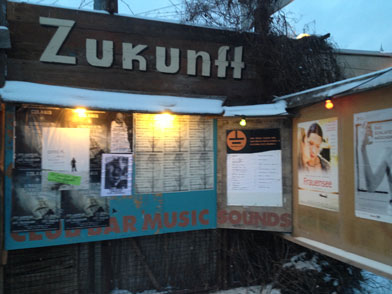 January 24, 2013
TONESUCKER LIVE, BERLIN
Tonesucker perform at a Salon Bruit event at Tiefgrund, Berlin. "Visitors from the UK, drone monsters, Tonesucker, and live sonic drawing by a local from Japan, Chuuu. At the ready to sooth and abuse. Your choice of perception". Tiefgrund is at Laskerstrasse 5, 10245 Berlin.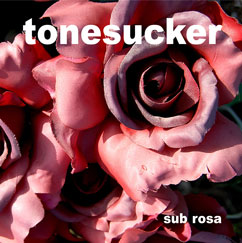 January 22, 2013
TONESUCKER ALBUM, SUB ROSA, BROADCAST IN FULL ON GERMAN RADIO
Tonesucker's new album Sub Rosa, released by French label Fibrr, is broadcast on Berlin's PI Radio. [Click image to listen or buy.]

Review from A Closer Listen (US): Sub Rosa is the follow-up to Omnia Convivia Crastina, which crashed our Top 20 Albums of 2012. Like many Tonesucker releases, it's a thick collection of extended pieces, here a quartet of selections totaling one second under one hour. The unifying thread is that each piece is loosely intended to reflect the area in which it was recorded: three rivers and an estuary in England and France. One of these, the River Loire, has seen its share of recent tributes, notably Hervé Moire's Mirage de Loire and Linear Bells' Ex Kiss. But while those artists approach their subject through field recordings and ambient washes, Tonesucker takes a more aggressive approach. It's certainly in them to share an electronic current, as in the opener "Omnia Convivia Crastina Pars Secunda", which acts as a piece of driftwood that picks up speed as it races down the river. But the band is more likely to provide unsettling noises that grow comforting only through repeated exposure. Tonesucker's stated subject is "loss of home", along with all of its requisite associations. The last album was literally set adrift, released to the tides. "The Wrong Wire" epitomizes disorientation by mangling the 1920′s classic "Which Switch Is the Switch for Ipswitch", setting it in an unmade bed of rumpled pillows and disheveled blankets. The seven minute song (hit single?) begins with a blast and ends in diminishment, reflecting the churn of emotions a person once felt when a switchboard operator made "the wrong connection". While the physical experience is no longer common (save for that of being shunted from one help operator to another), a similar feeling is generated when every attempt to communicate with a loved one seems thwarted by misunderstanding and fate. "Nantes Report" is "classic" Tonesucker, a drumbeat that eventually tumbles into a rising drone, threatening to burst the banks and flood the town. But at 26:09, the title track (no hit single here!) is easily the best track here – a thankful fact, considering its length. This live recording is a beautiful ambient piece that just drifts and drifts. Just kidding! It drifts for about three minutes, displaying a lovely sine wave worthy of Yann Novak. Then the detritus begins to appear like the wreckage that follows a flood. A laudable restraint is evident throughout the opening section, which stays beneath the wrack line for nearly seven minutes. There's no clear breach – no discernible moment in which the barriers tumble – but by the middle of the track, a quiet chaos reigns. And by the end of the track, which is also the end of the album, listeners may feel that they have been led out of the promised land, only to be led back in again, which is a lot like losing one's home and finding a new one." (Richard Allen)


January 10, 2013
TONESUCKER LIVE, COLCHESTER
Tonesucker perform at the Hole In The Wall, Colchester with Southend psych-folk band Lost Harbours. According to some sources, the wall after which the venue was named, is that from which Humpty Dumpty fell in the childrens' nursery rhyme.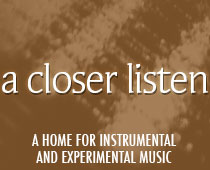 December 24, 2012
TONESUCKER IN A CLOSER LISTEN'S DRONE TOP 10 AND AT NUMBER 19 IN THE TOP 20 ALBUMS OF 2012
Zachary Corsa said: "Tonesucker was consistently ranked among our staffers as one of our favorite releases of the year, and the heady wave of buzz has been well deserved, indeed. While much noise music can often come across cold and clinical, Omnia Convivia Crastina is absolutely bursting with robust and colorful life. There's no randomness to this melee; everything is as utterly composed and perfectly interwoven as a fine photograph, with each rattle and each drone falling jigsaw-like into perfect and precise anointed place. Noise music doesn't have to be arbitrary chaos; sometimes it can be as moving and stirring as the simplest of gorgeous melodies. In 2012, Tonesucker's unique take on the genre carries the day." Richard Allen said: "The title of Garret Keizer's last book defines noise as "the unwanted sound of everything we want". Toss all the colors of the spectrum together, and one gets white; toss all the sounds together, and one gets Tonesucker. The band's latest album is a group expression of controlled bombast, one that often sounds like a hardware store being tipped into a cement mixer. But as long as the listener controls the volume, noise is not noise; this album is a secret weapon, ready to obliterate every unwanted sound in its path."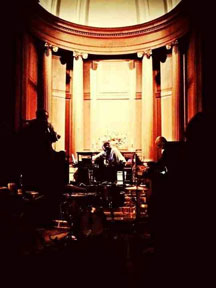 November 30, 2012
TONESUCKER LIVE, CAMBRIDGE
Tonesucker appear in concert with Lorah Pierre & Ypsmael, Tasos Stamou and lllV at the beautiful Unitarian Church in Cambridge.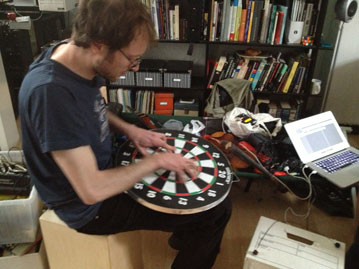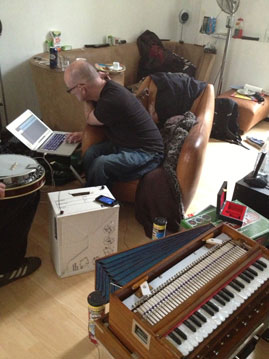 November 9, 2012
JM BOWERS, TERRY BURROWS AND NORMAN YPSMAEL RECORDING SESSION, LONDON
John, Terry and Norman record a number of improvised pieces for possible future release.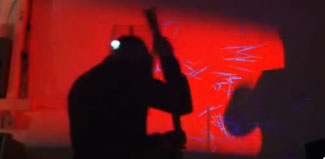 November 8, 2012
TONESUCKER, UNIT 303, JM BOWERS LIVE, LONDON
Noise=Noise and Onoma Research Present… "Derelict Electronics… Broken Piano… Working Harmonium… Onomastic Noise…" Performing are Tonesucker, Unit 303, Elle Es Aich & JM Bowers, Ryan Jordan, Norman Ypsmael, and Lorah Pierre. At Noise=Noise in Hackney. [Photo of Unit 303 by Sasha.]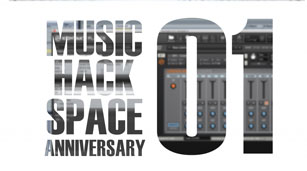 October 11, 2012
JM BOWERS & JEAN-BAPTISTE THIEBAUT LIVE, LONDON
Music Hackspace 1st Anniversary Concert at Troy, 124 Kingsland Road, Shoreditch, London, E2 8DP. JM Bowers performs a set with Jean-Baptiste Thiebaut.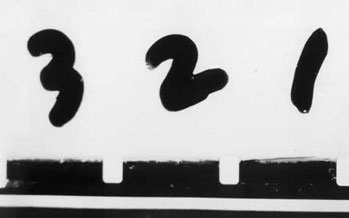 October 9, 2012
JM BOWERS LIVE, LONDON
Unconscious Archives #6, Cafe Oto, 18-22 Ashwin Street, Dalston, London, E8 3DL. Sets by JM Bowers, Takahiko IIumura, Jonathan Kemp, and James Holcombe & Adam Asnan. £7 on the door.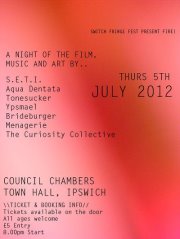 July 5, 2012
TONESUCKER LIVE, IPSWICH, UK
Tonesucker take part in FIRE! at Ipswich Town Hall, part of the Switch Fringe Festival.
As the Olympic Torch rests in Ipswich on its route from Mount Olympus to the East End of London, FIRE! marks the occasion with a night of live art. The torch relay was devised for the Berlin 1936 Olympics and echoes the ancient Greek myth of Prometheus stealing fire from the Gods. FIRE! explores this tangle of history, mythology and power through live music, film, performances, curiosities and experimental artworks. Featuring: S.E.T.I., Aqua Dentata, Tonesucker, Ypsmael, Brideburger, Menagerie, The Curiosity Collective. Part concert, part cinema, part exhibition, part pagan rite, FIRE! will give the Olympic Torch the send off it deserves. £5 Entry. Tickets available on the door. More information at www.switchfringe.co.uk.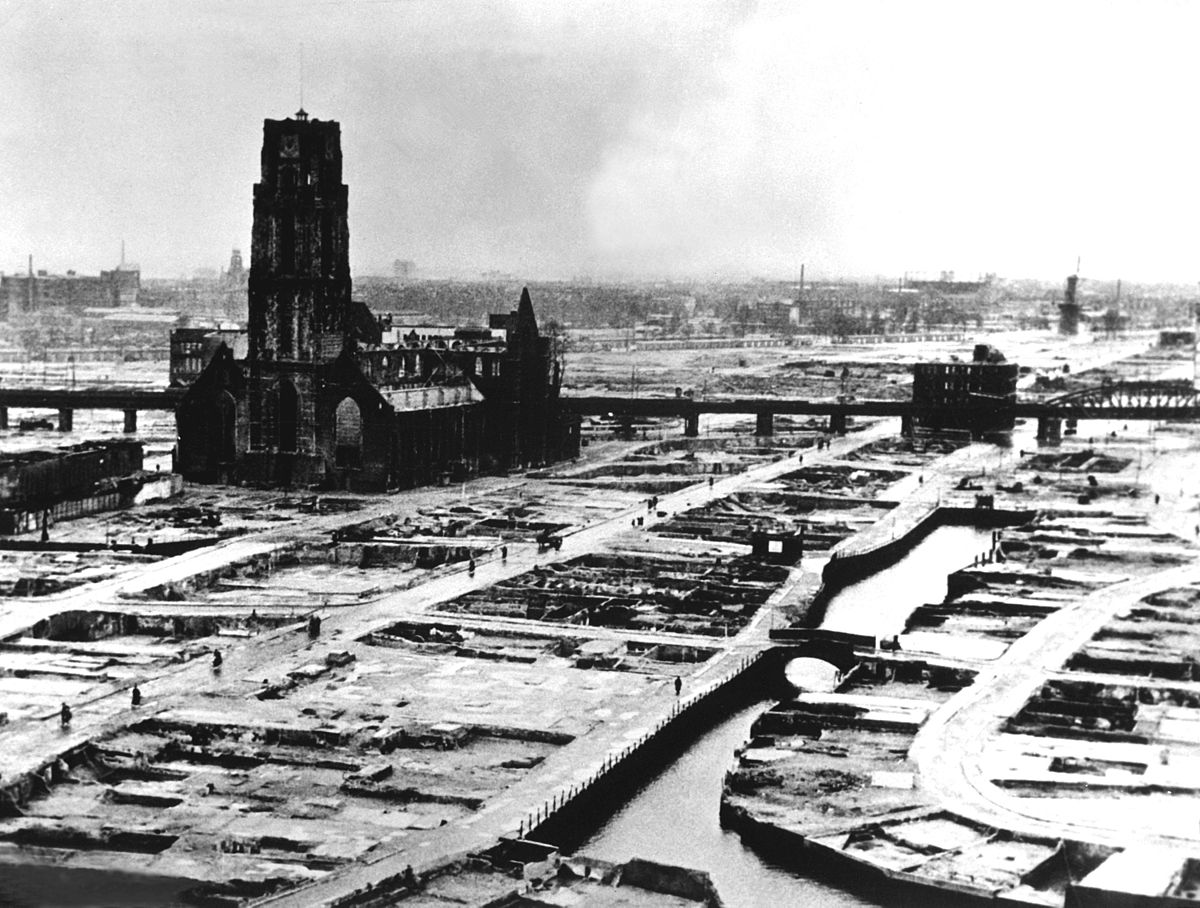 June 11, 2012
TONESUCKER RECORDED PERFORMANCE, WORM, ROTTERDAM
Tonesucker contribute two new compositions to accompany a choral performance of Orlando di Lasso's Sacrae Lectiones Ex Propheta Job, an event marking the anniversary of the Nazi bombing of Rotterdam during World War II.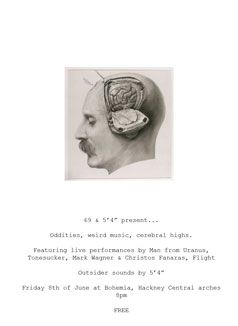 June 8, 2012
TONESUCKER LIVE, LONDON
69 and 5'4"" present... Oddities, weird music, cerebral highs. Featuring live performances by Man From Uranus, Tonesucker, Mark Wagner & Christos Fanaras and Flight. Outsider sounds by 5'4". Friday 8th of June at Bohemia, Hackney Central Arches, 8pm.


May 10, 2012
TONESUCKER LIVE, IPSWICH
Tonesucker play at the Blue Room, Ipswich. Also on the bill are Ypsmael and Brideburger.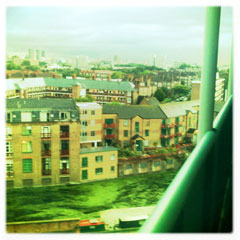 April 14, 2012
TONESUCKER LIVE, LONDON
Tonesucker play a noise=noise event at nnnnn. 73a Regent Studios, 8 Andrew's Road, London Fields, E8 4QN. Also playing are Ampersand, Ryan Jordan, Max Wainwright, Xname and Ewa Justka. Starts at 8pm.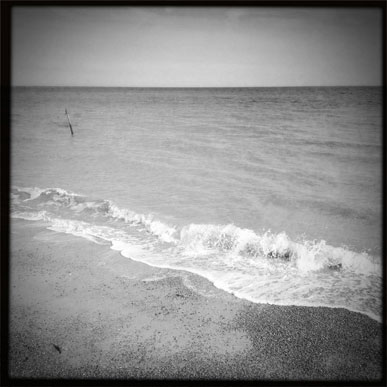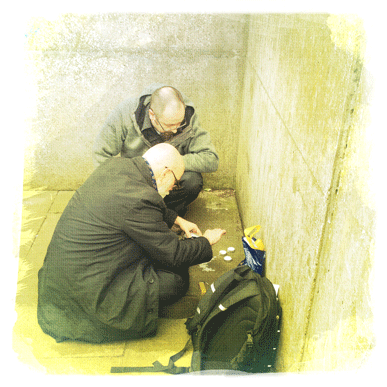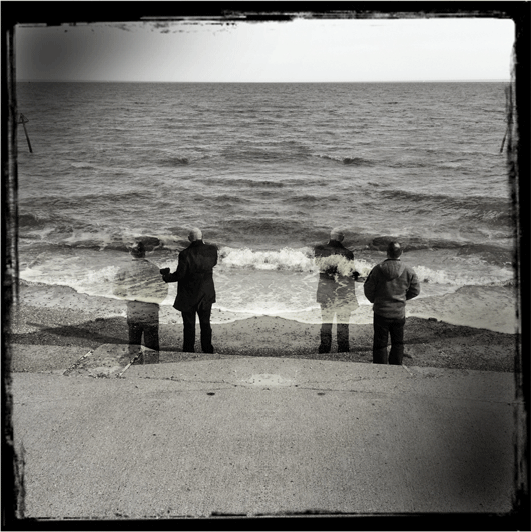 April 8, 2012
TONESUCKER ALBUM LAUNCH, FELIXSTOWE
The official launch of Tonesucker's new album, Omnia Convivia Crastina. The album was launched into the North Sea at the site of Felix of Burgundy's See, Dummoc. Just after high tide. On a USB stick. In a bottle. Swept away swiftly in the currents from the River Deben. This was a true launch party.





April 8, 2012
TONESUCKER LIVE, IPSWICH
Tonesucker took part in So Beautiful: Extreme Musik, an all-day festival at the Royal Oak in Ipswich. Also playing were Skat Injector, Meadows, Toe, Brideburger, No Fun and loads of others.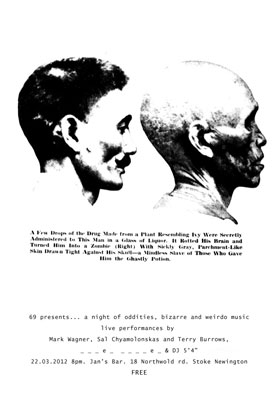 March 22, 2012
TERRY BURROWS, SAL CHYMALONSKAS AND MARK WAGNER LIVE, LONDON
"69 presents… a night of oddities, bizarre and weirdo music..." at Jan's, 18 Northwold Road, Stoke Newington, N16 7HR. Terry Burrows, Mark Wagner and Sal Chymalonskas perform together live using lots of electric fans. Also doing stuff are "_ _ _ _e . _ _ _ _ e _" and DJ 5'4".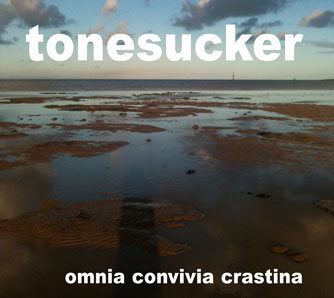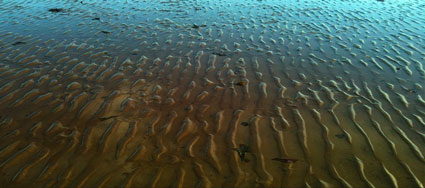 March 21, 2012
TONESUCKER ALBUM – OMNIA CONVIVIA CRASTINA
Tonesucker's sixth release, a CD album, Omnia Convivia Crastina (Onoma11), is released by Onoma Research. It features three live-from-the desk pieces recorded in concert at Worm in Rotterdam, the Barbican in London and All Tomorrow's Parties in Minehead. The CD is available directly from Onoma and other outlets; digital downloads may be procured from iTunes, CD Baby and Bandcamp. [Click on image.]

The album earns a rave review from A Closer Listen (US): "The buzz began with Wire Tapper 28 and the sonic mulch of Tonesucker's "cosmic avian variation", which sounded somewhat like a gravel field being mowed next to an active propeller. The track was a teaser mix of three longer selections on Omnia Convivia Crastina, which is easily one of the year's standout releases in the drone arena. Drones, pulses and noises" is the label's description, which is a great start. This album, Tonesucker's sixth, is a triptych of live performances, thick with feedback, buzz and whirr, packed with pattern but astonishingly free of repetition. It's possible the performers didn't even know what it would sound like until they played it, and that they'll never be able to replicate it in any reliable fashion. Nor, it seems, would they wish to do so; during the launch party, they put the recording on a USB stick, shoved it in a bottle and sent it into the North Sea. Some lonely beachcomber is going to get the surprise of a lifetime. Is it noise? Most people would say so, but it's noise with flow and beauty, elegance and grace. Unlike other music of its kind, Omnia Convivia Crastina coheres to internal mechanisms that provide each long piece – and the album as a whole – with substance and form. Nothing seems random, even though it must be so; no startling bursts knock the listener from his chair. At times, it's even lulling, due to the wavy drones passing behind the fuzz and squeal. The industrialized revolution brought these sounds into the public consciousness, and for most of history they have seemed unwanted. This noise is tamed, sculpted, shaped and made desirable: the potentially ugly made potentially beautiful, even glorious, a wash of mechanized sounds with aquatic timbres, imitations of telephones and emergency vehicles, bells and wires and factories forming an unlikely harmonious choir. Yet none of this would be possible without the invitation of an odd party, one that some in the noise field would even consider an enemy: silence. In order to succeed, noise must work in opposition to, not in ignorance of silence. It does so here, especially on "Worm", threading its way from deserted sonic spaces to the very center of the maze. The mediating party – volume – darts back and forth between the two, negotiating a truce, but never a peace. But peace is not what we want – not here, not now. We want controlled chaos, and danger, and rustling in the woods, which is exactly what this brilliant album provides."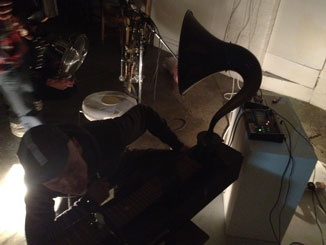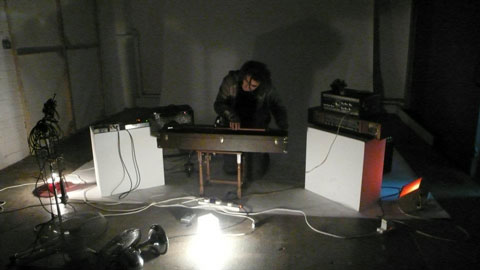 March 2, 2012
TERRY BURROWS, SAL CHYMALONSKAS AND MARK WAGNER, CLAPTON, LONDON
Improvisation using electric fans, electro-mechanical guitar, voice and radio filmed at Gallery II, Clapton.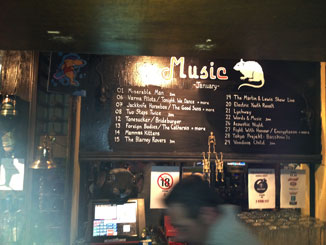 January 12, 2012
TONESUCKER LIVE, IPSWICH
Tonesucker live at the Grinning Rat, Ipswich with Brideburger and Talking Sleeve.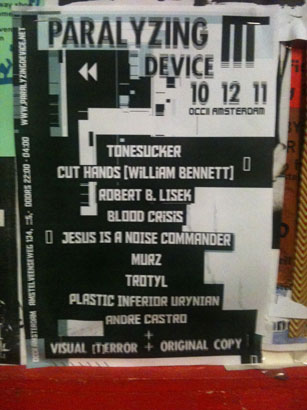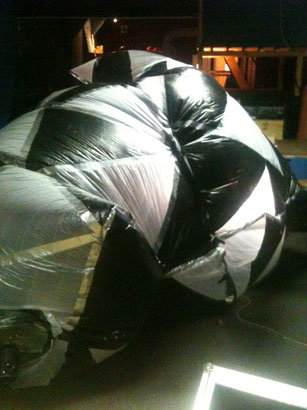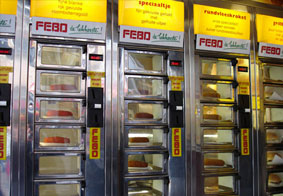 December 10, 2011
TONESUCKER LIVE, AMSTERDAM, THE NETHERLANDS
Tonesucker play at OCCII – Onafhankelijk Cultureel Centrum In It – in Amsterdam. Other bands include William Bennett (Cut Hands), Robert B. Lisek, Blood Crisis and Plastic Inferior Urynian.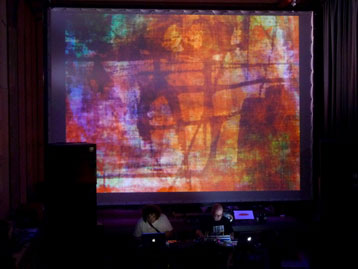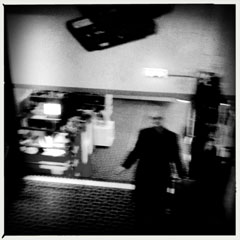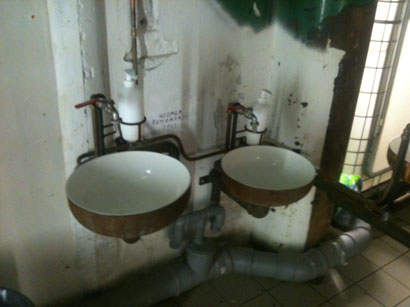 December 9, 2011
TONESUCKER LIVE, ROTTERDAM, THE NETHERLANDS
Tonesucker play at WORM – Instituut voor Avantgardistische Recreatie – in Rotterdam. Also on the bill are Christian Galarreta, Robert B. Lisek and Andre Castro. [Photograph above left by Petr Kazil - click on image to see video clip of the performance.]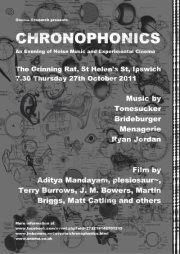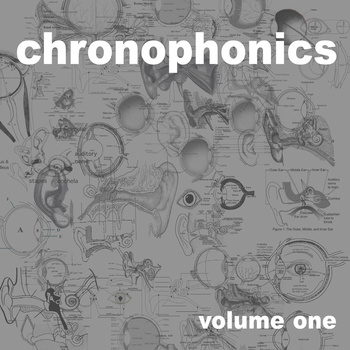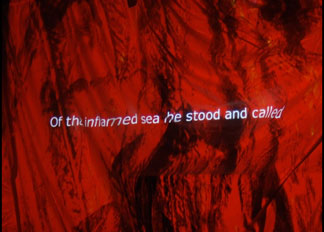 October 27, 2011
TONESUCKER LIVE, IPSWICH (ONOMA RESEARCH EVENT: CHRONOPHONICS #1)
The first Onoma Research promotion, Chronophonics #1 features live music by Tonesucker, Brideburger, Menagerie and Ryan Jordan. Also on the bill, experimental film by Aditya Mandayam, Terry Burrows, JM Bowers, Plesiosaur~ and others. Free CHRONOPHONCIS VOLUME 1 CD with entry, comprising artists on the evening's bill. The Grinning Rat, St Helen's Street, Ipswich. [Click on image for free download of album.]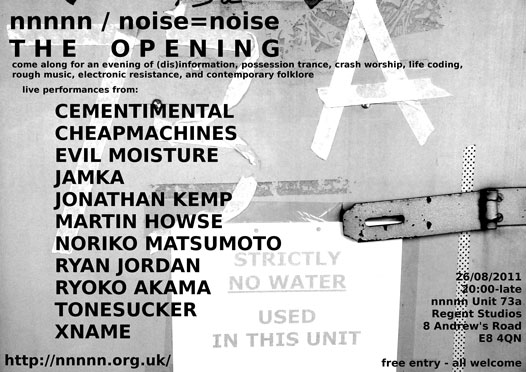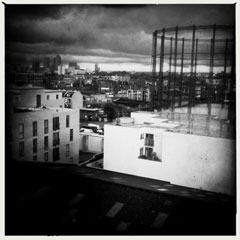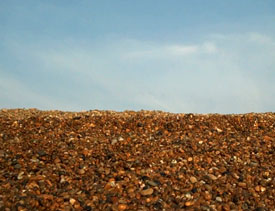 August 26, 2011
TONESUCKER LIVE, LONDON
Tonesucker play The Opening at nnnnn. Billed as "An evening of (dis)information, possession, trance, crash worship, life coding, rough music, electronic resistance and contemporary folklore". Also playing are: Phil Julian, Tim Drage, Andy Bolus, Jamka, Jonathan Kemp, Martin Howse, Noriko Matsumoto, Ryan Jordan, Ryoko Akama and Xname. Unit 73a, Regent Studios, 8 Andrew's Road, E8 4QN. Click on image above right to see video of event.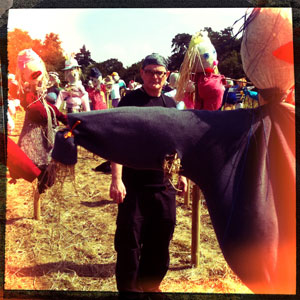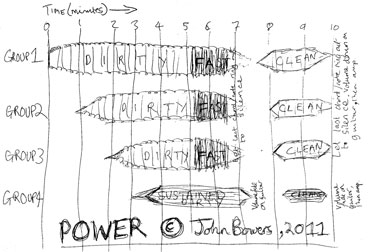 July 31, 2011
J M BOWERS/TERRY BURROWS LIVE/FILM, SUFFOLK
John Bowers and Terry Burrows take part in Power At An Edible Compass,filmed as part of On Landguard Point, the East of England's film contribution to the 2012 Cultural Olympiad. A group of "greater than 12 guitarists" gathered in the middle of a field to perform "Power", a piece composed by John, the score commissioned specifically for the event.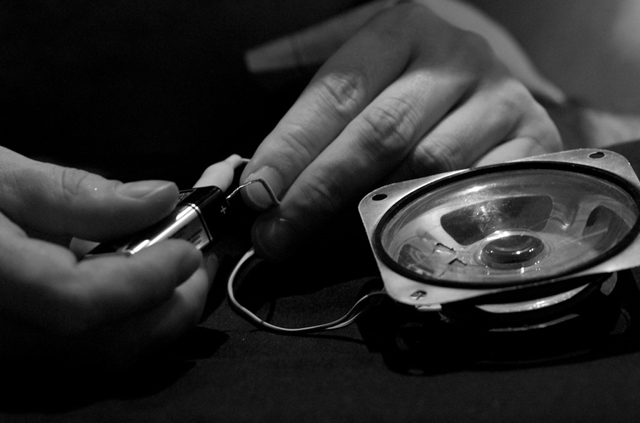 May 14, 2011
J M BOWERS LIVE, NANTES, FRANCE
John Bowers takes part in the the Electro Pixel festival with his workshop/performance "Construire ses machines".


May 7, 2011
J M BOWERS LIVE, VANCOUVER, CANADA
John Bowers performs "Vancouver Flux" at The User In Flux, Emily Carr University Of Art And Design, Granville Island, Vancouver. Also playing are Pat Subyen, Robyn Taylor/Guy Schofield/John Shearer, and Steve Gibson/Stefan Müller Arisona.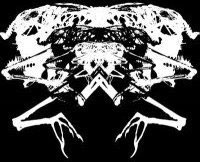 May 5, 2011
TONESUCKER LIVE, LONDON
Tonesucker take part in a Noise=Noise event at ]performancespace[, Unit 6, Hamlet Industrial Estate, White Post Lane, London, E9 5EN. "Dark Hypnosis… Psychoactive Noise… Fragmented Performance". Also playing are Ryan, Jordan, Ewa Justka, Andre Castro, Pani K, Xname, EQ-AV, Shelley Parker, Toe, Aqua Dentata, Russell Callow, John Macedo, Ewa Jamka, Sz.Berlin, Vera Bremerton, and others.


April 29, 2011
TONESUCKER LIVE, IPSWICH
Tonesucker and Ryan Jordan find themselves billed as authentic Brazilian virtuoso musicians as they play extreme noise sets to a potentially hostile audience at Brasilia Café, Ipswich.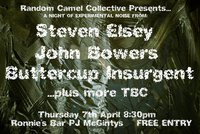 April 14, 2011
STEVEN ELSEY & J M BOWERS LIVE, IPSWICH
J M Bowers and Steven Elsey perform solo sets at McGiny's, Ipswich. Also appearing are Buttercup Insurgent.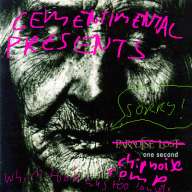 April 5, 2011
J M BOWERS APPEARS ON CHIPNOISE COMPILATION
J M Bowers appears on track 160 of Cementimental Presents…One Second Chipnoise Comp Which Took Way Too Long. [Click on image to hear album.]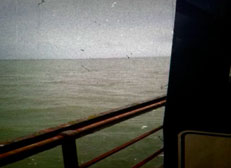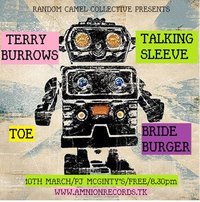 March 10, 2011
TERRY BURROWS LIVE, IPSWICH
Terry Burrows gives a diffusion performance to accompany his second short film, Terminus (above left), at McGinty's Ipswich. Also playing are Toe, Talking Sleeve and Brideburger.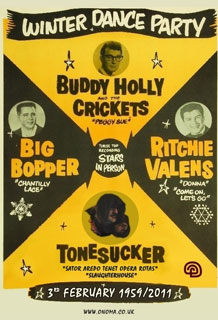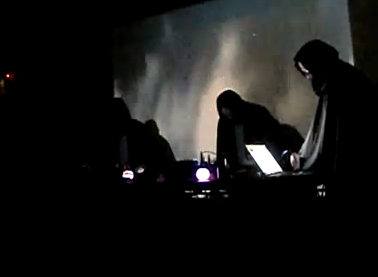 February 3, 2011
TONESUCKER LIVE, STOKE NEWINGTON, LONDON
Tonesucker perform at The Others, Stoke Newington. The concert will be broadcast live on Ill FM. Click on left image to hear audio of performance; on the right image to watch video clip.





January 22, 2011
TONESUCKER LIVE, VAUXHALL, LONDON
Tonesucker perform at the first Post Modular Pop-up at Beaconsfield, 22 Newport Street, Vauxhall, London. The event is sponsored by Post Modular, Britain's leading importer of Eurorack-format analog synth modules. You can watch a brief video clip, described as "some easy listening summer vibes", by clicking on the icon.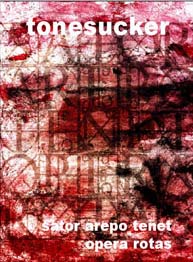 January 21, 2011
TONESUCKER CD ALBUM, SATOR AREPO TENET OPERA ROTAS (ONOMA7)
Tonesucker's fifth release. A live CD album, Sator Arepo Tenet Opera Rotas (Onoma7), is available from Onoma Research. Buy/download the album on Bandcamp – click on the album artwork.


December 29, 2010
TONESUCKER LIVE, IPSWICH
Tonesucker celebrate Johnnymas and mark the 30th anniversary of the Rendlesham UFO incident with Martin Briggs, Eddie Nuttall and Ryan Jordan at McGinty's in Ipswich.


November 27, 2010
TONESUCKER LIVE, CAMBERWELL, LONDON
Weather conditions prevent Tonesucker taking part in a Noise=Noise event at the Rat in Camberwell. Humble apologies are offered.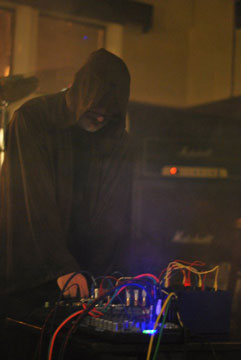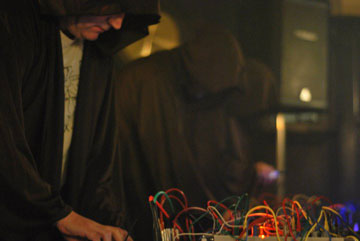 October 14, 2010
TONESUCKER LIVE, IPSWICH
Tonesucker take part in a Random Camel Collective event at The Beerhouse, Ipswich. Also playing were Toe and Brideburger. [Images by L Seeley Photography.]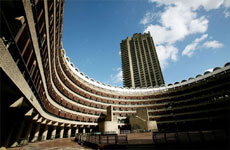 July 3, 2010
TONESUCKER LIVE, THE BARBICAN, LONDON
Tonesucker take part in Knowledge Of The Hidden at The Barbican, London – a paranormal-themed evening of noise-related activity curated by Ryan Jordan.


May 25-28, 2010
J M BOWERS, SADLER'S WELLS, LONDON
J M Bowers is one of the musicians performing John Tudor's Rainforest IV for Ballet Rambert at Sadler's Wells.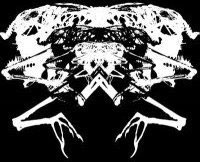 May 13, 2010
TONESUCKER LIVE, LONDON
Tonesucker play at "noisenoisenoisenoisenoisenoisenoisenoisenoise" at Butcher's Corner (302 New Cross Road, London). Also playing are: Russell Callow, Medžitlija-Níki, Peter A, Andy Pitchless, Vultures, Joel Cahen, Zlatko Baracskai and Eaten By Children.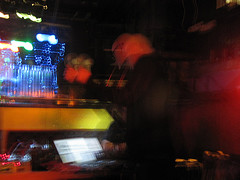 April 9, 2010
TONESUCKER LIVE, LONDON
Tonesucker perform at The Montague Arms, New Cross, London. [Photo by Steve Xerri.]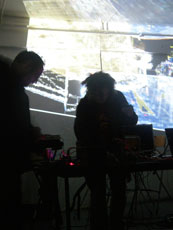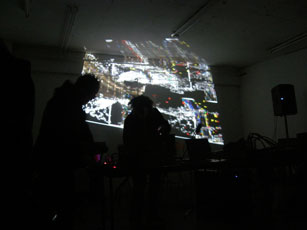 March 13, 2010
TONESUCKER LIVE, LONDON
Tonesucker perform at The Foundry, London – probably for the last time before its closure. Also playing are: Hylics; Cheapmachines; Tim Goldie, Iron Fist of the Sun; Jamka, Ctrl-N & Paul Ramshaw; Mike McInerney & Zlato Baracskai; John Wall & Alex Rogers; VJ Flickering Light. [Photography by Geri McKewen.]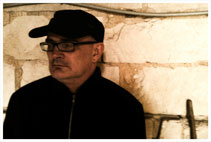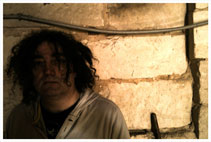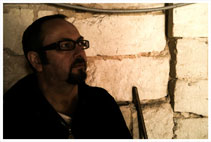 March 7, 2010
TONESUCKER LIVE, ST DIZANT, FRANCE
Tonesucker perform/record/film in St Dizant, France.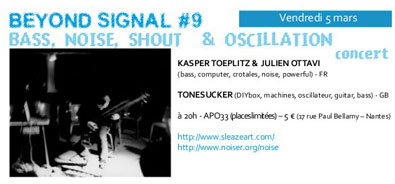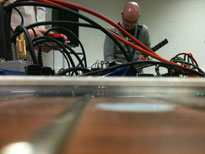 March 5, 2010
TONESUCKER LIVE, NANTES, FRANCE
Tonesucker perform at Beyond Signal #9 at APO33, 17 Rue Paul Bellamy, 44000 Nantes, France. Also playing together are Kasper Toeplitz & Julian Ottavi.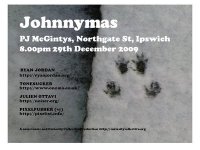 December 29, 2009
TONESUCKER LIVE, IPSWICH
The Curiosity Collective and Noise=Noise celebrate Johnnymas by presenting Ryan Jordan, Tonesucker, Julian Ottavi and Pixelpusher at PJ McGinty's, Northgate Street, Ipswich. 8-11 pm.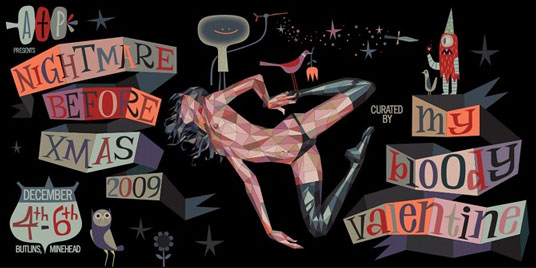 December 5, 2009
TONESUCKER LIVE, MINEHEAD/LONDON
Tonesucker gatecrash All Tomorrow's Parties: The NIghtmare Before Xmas in Minehead with a wholly uninvited performance. Audio will be streamed live to Noise=Noise #15 at the Foundry, London, where it will accompany visuals by Ryan Jordan. Other performers at Noise=Noise TBA. ATP venue TBA on the night.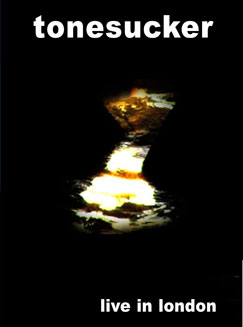 December 4, 2009
TONESUCKER DVD-EP, LIVE IN LONDON (ONOMA6)
Tonesucker release their second DVD EP, Live In London (Onoma6). It features the live audio performance from The Monty in October accompanied by the evening's back-projected film.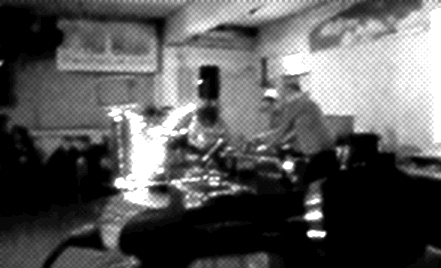 December 3, 2009
TONESUCKER LIVE, LONDON (ALSO BROADCAST LIVE ON ILL FM)
Tonesucker perform at The Others, 6-8 Manor Road, Stoke Newington, N16. Also playing are: ANTIchildLEAGUE, Shift, Vultures and DJ Poison Creeper. The gig was broadcast live on Ill FM. Click on image to watch video clip.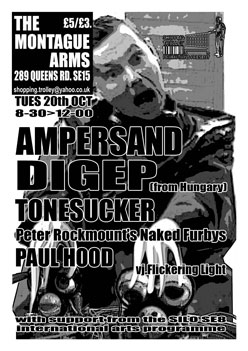 October 20th, 2009
TONESUCKER LIVE, LONDON
Tonesucker perform at The Montague Arms, New Cross, London on October 20, 2009. Also playing: Ampersand, Ryan Jordan, and Digep (from Hungary). The performance was recorded for a future release.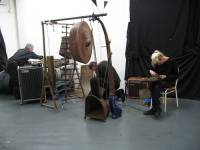 September 10th, 2009
FURTHERNOISE REVIEW OF FOUNDRY BASEMENT SERIES
Furthernoise webzine reviews The Foundry's Basement Series in which JM Bowers and Terry Burrows appeared. Click on image to read.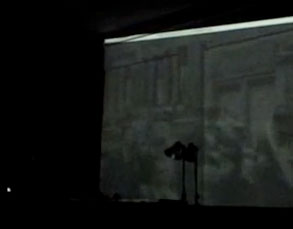 August 26th, 2009
TERRY BURROWS LIVE, LONDON
Terry Burrows performs drone-with-film, Whether Or Not You Wear A Hat for the last of August's Basement Series at The Foundry, Old Street, London. Click on image for brief lo-res video clip.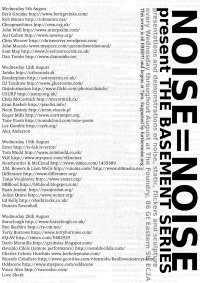 August 19th, 2009
J M BOWERS AND LIAM WELLS LIVE, LONDON
JM Bowers and Liam Wells perform a guitar drone duet for the 3rd of August's Basement Series at The Foundry, Old Street, London.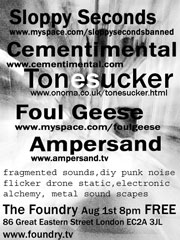 August 1st, 2009
TONESUCKER LIVE, LONDON
Tonesucker performed at The Foundry, Old Street, London on Saturday, August 1. Also playing were Ampersand, Foul Geese, Cementimental and Sloppy Seconds: "Fragmented sounds, DIY punk noise, flicker drone static, electronic alchemy. metal soundscapes".





July 31, 2009
TONESUCKER DVD-EP, CAPUT MORTUUM
Tonesucker release DVD EP, Caput Mortuum. It features material used in the live Metallica mash-up at The Foundry on March 28, 2009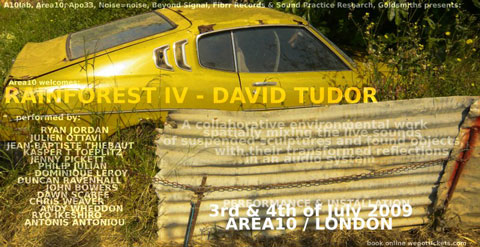 July 3rd - 4th, 2009
J M BOWERS LIVE, RAINFOREST IV, LONDON
J M Bowers performs in a realization of David Tudor's Rainforest IV at Area 10 in Peckham. Seet the Area 10 website for details.






July 3rd, 2009
TERRY BURROWS INTERVIEW
Terry Burrows interview appears in the psychedlic webzine/blog, TRIP INSIDE THE HOUSE.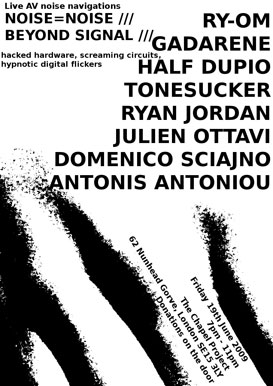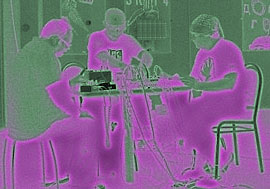 June 19, 2009
TONESUCKER LIVE
Tonesucker take part in the NOISE=NOISE /// BEYOND SIGNAL event at The Foundry, Old Street, London. They perform using home-built Arduino Noise Machines, crackle boxes, files and Nintendo DS. Also playing are: Ryan Jordan, Julien Ottavi, Half Dupio, Ry-Om, Antonius, Domenico Sciajno and Gadarene. [Original photo by Kim Price.]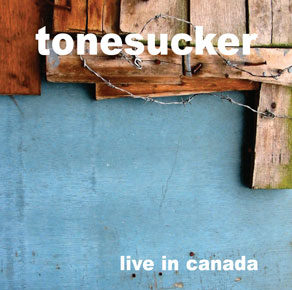 June 19, 2009
TONESUCKER ALBUM, LIVE IN CANADA
Tonesucker release second CD album, Live In Canada. It features a single improvisation performed in 2006 for Tone Deaf IV, a festival based in Kingston, Ontario, Canada.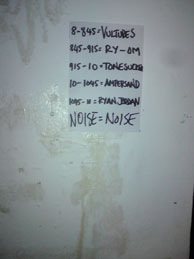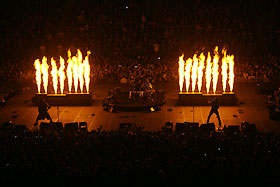 March 28, 2009
TONESUCKER LIVE, LONDON
Tonesucker take part in NOISE=NOISE at The Foundry, Old Street, London. Terry Burrows [Nintendo DS, electronics] and Steve Elsey [electronics] perform at the venue; John Bowers contribution comes live from the O2 Arena where he feeds a live signal from the Metallica concert via his iPhone. This signal is mashed up and generally abused in a variety of interesting ways, forming the audio core of the performance. Accompanying the performance is John Bowers' film, Requiem. Also featured were Vultures, Ry-Om, Ampersand and Ryan Jordan.





January 11, 2009
TONESUCKER ON RADIO 6, FREAK SHOW
Stuart Maconie gives an airing to Tonesucker's "Splatterstrum" on his BBC6 Freak Zone show. It is sandwiched between Caravan's "In the Land of Grey and Pink" and Cornelius Cardew's "Solidarity Song".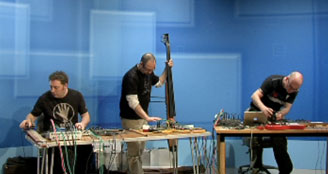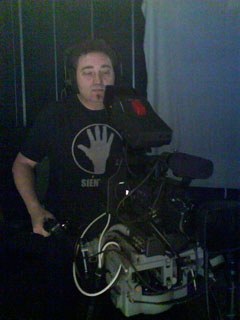 April 26, 2008
TONESUCKER LIVE, LITHUANIA
Tonesucker (Left-to-right: Terry Burrows, Steve Elsey, John Bowers) take part in live TV broadcast from Studio 3, Epic Studios, Norwich, UK to a location in Lithuania. Also performig are Liam Wells and Alex Sanders, Jason Dixon and Fran Wall.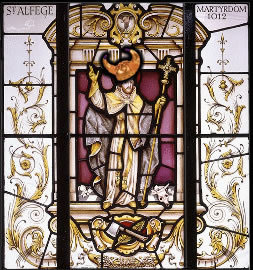 April 19, 2008
TONESUCKER LIVE, WEBCAST
TONESUCKER: The Killing of St Alphege
Live Webcast of Sound and Moving Image marking the the anniversary of the killing of Alphege, Archbishop of Canterbury, in 1012. Click on the image to view video of the event.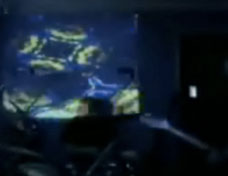 March 15, 2008
TONESUCKER LIVE, WEBCAST
TONESUCKER: Beware the Ides of March
Live Webcast of Sound and Moving Image marking the assassination of Julius Caeser and in anticipation of the overthrow of all forms of tyranny. Click on the image to view video of the event.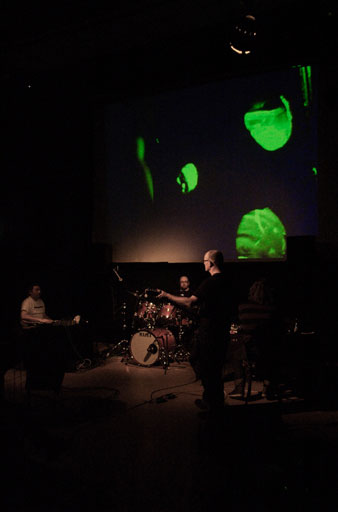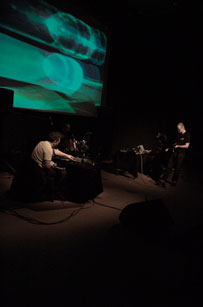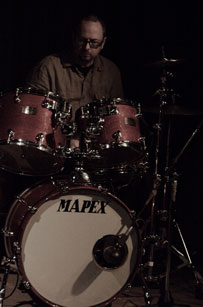 February 2, 2008
TONESUCKER LIVE, SWEDEN
Tonesucker perform as part of the BLAND KRETSAR OCH LJUD MED JOHN BOWERS evening on Saturday, February 2, 2008, at Fylkingen, Stockholm, Sweden. It is the band's debut as a trio – now with drummer Steven Elsey. Also featured are Liam Wells (UK, tachyscope and analogue electronics), Phil Archer (UK, live circuit bending), Mattias Sköld and Sören Runolf (SE, breadboards and synthesizers), John Bowers and Vanessa Yaremchuk (UK/Canada, dreamachines, neural networks). This event is part of the node.stockholm festival. [Photograph by Vanessa Yaremchuk.]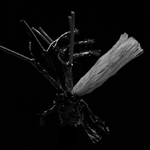 .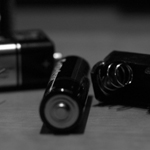 .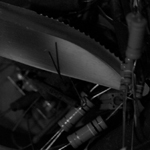 December, 2007
ARTICLE BY J M BOWERS & VANESSA YAREMCHUK
Leonardo Music Journal publish article by J M Bowers and Vanessa Yaremchuk. Related music and photography available on this site.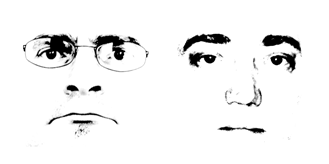 March 5, 2007
TONESUCKER ON WIRE CD
Tonesucker record exclusive track "Splatterstrum" for The Wire magazine. It will appear on The Wire Tapper 17 CD included with the May edition.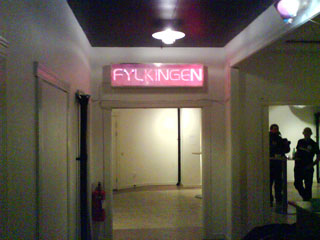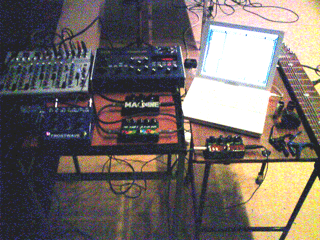 December 13 , 2006
TONESUCKER LIVE, SWEDEN
Tonesucker and Sten-Olof Helström play set at Fylkingen, Stockholm


October 18, 2006
J M BOWERS LIVE, LEICESTER
J M Bowers performs concert at De Montfort University, Leicester, UK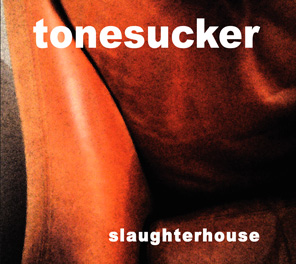 July 3, 2006
TONESUCKER NEW ALBUM, SLAUGHTERHOUSE
Tonesucker release their debut CD album, Slaughterhouse (Onoma01). Distribution is through Shellshock. The album can also be purchased online at the Onoma shop, Amazon and Play.com. A version will be soon available on iTunes and other digital outlets.

The album was reviewed by Diskant's Pascal Ansell: "How many albums do you know of that were recorded in an abattoir? The noise/drone duo Terry Burrows and John Bowers answer that question under the name of Tonesucker, whose 2006 album 'Slaughterhouse' captures the intense claustrophobia of a filthy parade through an abattoir. The album opens with a monolithic guitar chord repeated every twenty seconds, the track's title 'Hook' ominously punning on the portent of the horror that the listener / cow awaits. As the song develops there are some wonderfully weird guitar crackles that begin to burn then gently fizz out – just a sample of the great tones and effects the two guitarists Bowers and Burrows achieve in this album. One of the most nerve-wracking songs imaginable is 'Crush': a glacier-slow raising of pitch and tension, which achieved (I would guess) by gradually moving a slide up the guitar's neck. On 'Slice' the duo treat us to hypnotic wavelength vibrations – that underlying hum synonymous with Earth and Sunn O))). It's amazing to think 'Slaughterhouse' was recorded with just guitars (plus pedals and amps) – the array of sounds squeezed out of a couple of the instruments is immense. It's an incredibly intense listen packed full of triumphant droning and delicious noise. According to Terry the final product of 'Slaughterhouse' insisted on "tortuous amounts of audio sculpting" – all worthwhile in a particularly effective four songs. Listening to this album makes you wish there was a drummer somewhere in the mix, and lo, Tonesucker have done the right thing. Drummer Steven Elsey joined earlier this year, and the band will surely benefit from this addition."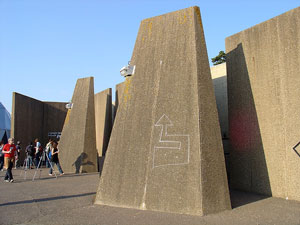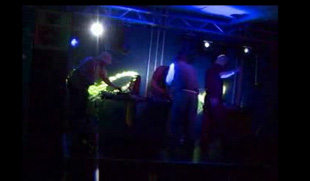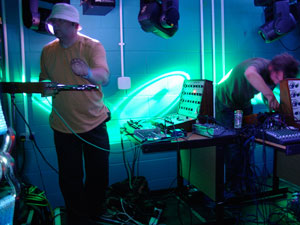 June 24 , 2006
TONESUCKER, ALEX SANDERS, LIAM WELLS LIVE, FASTER THAN SOUND FESTIVAL
Tonesucker (J M Bowers and Terry Burrows) team up with Alex Sanders and Liam Wells to perform at Faster Than Sound, a festival that claims to be "The first event of its kind joining the dots between DJs, electronica music and other genres, brought to you by artists from across the globe". You can watch a video of the performance at Liam Wells' MySpace page.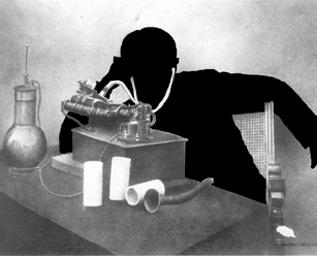 June 23, 2006
J M BOWERS ALBUM – EDISON'S RESIDUE
J M Bowers' Edison's Residue (Onoma2), an album of 'pseudo-Victorian turntablism', is available as a free download.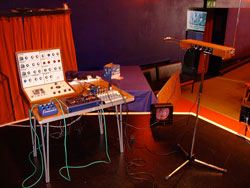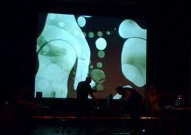 June 15 , 2006
J M BOWERS and TERRY BURROWS (Tonesucker), ALEX SANDERS, LIAM WELLS LIVE, MURMURATIONS, ALDEBURGH FESTIVAL
Murmurations: University of East Anglia Electro-Acoustic Music Studio. Stegosaurus - J M Bowers (theremin, oscillators), Terry Burrows (theremin, VCS3), Alex Sanders (VCS3) and Liam Wells (Jen, home-built oscillator) - perform quartet improvisation on vintage electronic equipment as part of the Aldeburg Festival's main programme. Further details on the Aldeburgh Festival website. You can watch a video of the performance at Liam Wells' MySpace page.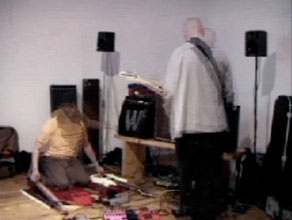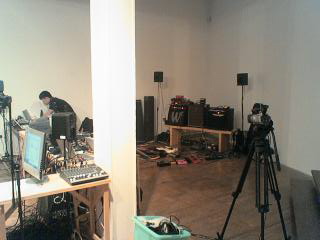 October 29, 2005
TONESUCKER LIVE, NORWICH
Tonesucker perform at WebJam09, Norwich School of Art and Design, Norwich, UK. [Click on image above left to view video of the performance.]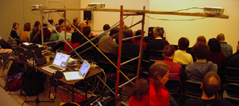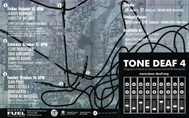 16 October, 2005
TONESUCKER LIVE, TONE DEAF FESTIVAL, CANADA
Tonesucker make their debut performance, at Tone Deaf 4 Festival, Kingston, Ontario, Canada. [Click on either image to hear the performance.]

The concert was reviewed in Music Works (US) by Kristi Allik and Julie Fiala : "This year's instalment of Tone Deaf, curated by artist Matt Rogalsky for the Modern Fuel Artist-Run Centre, had an eclectic line-up of practitioners, including performance artists as sound artists, video-sound investigators, guitarists as noisemakers, electro-digital gurus, and other cross-genre performers...... Mike Cassells, composer, jazz musician, improviser, and member of Tonesucker, a live electronic ensemble from the United Kingdom, played a session of long-distance musical improvisation connected in real time via the Internet. This improvisatory piece started quietly, with ambient sounds and quiet drones, followed by an abrupt introduction of atonal, rhythmic, and penetrating drones. Cassell's sonorities provided a tonal foreground to the noise-like sounds of Tonesucker's music. This gradually evolved into a more chaotic, dense climax, gradually becoming more pitched and tonal. Real-time musical performance and collaboration over the Internet is certainly challenging, due to issues such as the transmission delay time, the lack of visual contact, and the limited bandwidth. This performance provided by Cassells and Tonesucker, however, gives a taste of the possibilities."